During the extraordinary times we have experienced for over a year now, CACEIS has been working harder than ever to support our clients' development objectives from the 15 countries where we are established.
During the first quarter, financial markets reflected the hope afforded by the distribution of Covid-19 vaccines and we are already seeing positive business trends as a result. Activity levels are high, as indicated by the volumes of settlement/delivery transactions our staff have handled. These activity levels, in combination with vaccines that represent a light at the end of the Covid-19 crisis tunnel, lead us to be confident in a robust rebound across the global economy.
Nevertheless, the challenges facing both asset management and asset servicing firms are not inconsiderable: financial market volatility, fee pressure, new regulations (such as ESG-related rules), technology innovation uptake, and many other such challenges.
As Europe's leading asset servicing group, we have a key role to play in identifying solutions to these challenges and proposing products and services that suit our clients' individual requirements. We must also integrate working methods that raise our clients' operational efficiency, especially when the majority of our staff members are working from home as is currently the case.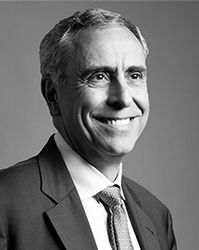 Our objective is to become a true business partner for our clients through strong relationships and operational excellence. This is why we are investing heavily into our onshore asset servicing business, rather than outsourcing, leveraging our broad geographic footprint and wide-ranging expertise to deliver comprehensive and scalable services to our global clientele. We are constantly enhancing the client experience we provide, implementing robust, streamlined processes that rely less on manual intervention and enable improved cost efficiency. Streamlined processes, business agility, and sharing expertise will be key features of our organisation going forward, and we will take advantage of all the opportunities that digitalisation offers to further raise the security and robust nature of our business operations.
In this edition of CACEIS News, we introduce you to our UK and Spanish teams and explain how service excellence is a core driver of their client satisfaction strategy. Both entities reflect our group's client-centered business philosophy and adherence to the founding principles of good governance.
You can also read about the newly developed systems and procedures that have been designed to assist clients in dealing with complications arising from the UK's withdrawal from the EU.
Our group's service offer is continually enhanced in terms of transparency and ESG reporting solutions, as well as digitalisation of services and new OLIS functionalities. Creation and delivery of innovative digital solutions remains a high priority and CACEIS is delighted to be involved in French trials of a Central Bank Digital Currency (CBDC). These first successful CBDC transactions, achieved at the end of last year, are a very encouraging sign that digital assets could at some point be authorised for use by the asset management community.
Joe Saliba