In 2018, CACEIS developed a new Private Equity accounting platform and digital web-tools dedicated to Private Equity, Real Estate and private debt fund managers and investors.
In a context of steady growth in the private equity market over the past eight years, the dedicated PERES Business Line of CACEIS regularly develops and adapts its offer to meet the needs of its clients in Europe.
French financial operators have a regulatory obligation to communicate how they fulfill ESG (Environmental, Social and Governance) criteria into their investment policies and to evaluate the carbon footprint of their portfolios. CACEIS has developed a turnkey reporting solution for its clients internationally.
Three years ago, CACEIS took an innovative step forward by putting in place an efficient, comprehensive financing solution for private equity funds, in line with international standards: equity bridge financing (EBF).
The Private Equity Services line, part of Crédit Agricole's Premium Client Solutions, combines the expertise of CACEIS, Crédit Agricole Corporate & Investment Bank and Indosuez Wealth Management to meet the financing and servicing requirements of real estate funds.
Neueste Veröffentlichung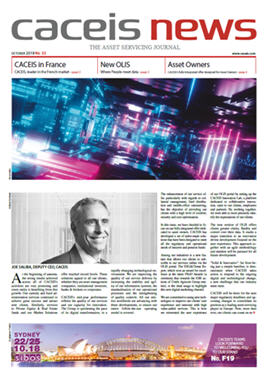 CACEIS News No. 55 - October 2018
The Asset Servicing Journal
CACEIS, leader in the French market
Middle-Office outsourcing: a strategic challenge for investors
OLIS: Where people meet data
CACEIS's fully integrated offer designed for asset owners
SFTR reporting: a new challenge for the financial industry
EMIR clearing obligation: the deadline is approaching
CACEIS adds new dimensions to its international fund distribution offer
Country Focus: France