CACEIS supports its clients in the distribution of investment funds thanks to a comprehensive range of solutions: local distribution with transfer agent, centralising agent and registrar functions, and cross-border distribution using the Prime TA and the Registre Nominatif International (RNI– International Register) service, a new service to support the marketing of French funds abroad.
Beyond the cutting-edge of today's technology, institutions are investing heavily into two major areas of innovation, both with enormous potential to severely disrupt the financial sector: Quantum Computing and Artificial Intelligence
The Money Market Funds (MMF) Regulation is one of the final post-2008 reforms which completes the regulatory framework. It seeks to provide a better framework for money market products and to reduce the risks associated with sudden large-scale fund redemptions, known as a "run".
Interview with HUBERT MONTCOUDIOL, Head of Regional Coverage, France & co-Head of Market Solutions and FRANÇOIS REBOUL, Group Treasurer & co-Head of Market Solutions.
Three years ago, CACEIS took an innovative step forward by putting in place an efficient, comprehensive financing solution for private equity funds, in line with international standards: equity bridge financing (EBF).
Neueste Veröffentlichung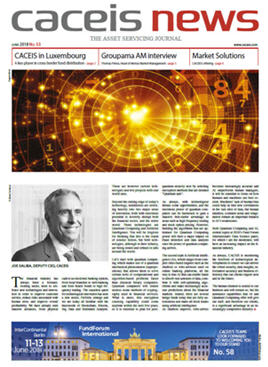 CACEIS News Nr.53 - May 2018
The Asset Servicing Journal
CACEIS in Luxembourg: An operational hub for Europe
CACEIS, a key player in cross-border fund distribution
Testimony of Thomas Prince, Head of Money Market Management at Groupama Asset Management
MMFR: CACEIS in a strong position to assist clients
CACEIS's Market Solutions offering
A new management team with complementary expertise for CACEIS's Private Equity business line
Personal data protection: CACEIS is compliant
Innovation Award Global Custodian for TEEPI
Country Focus: Luxembourg