CACEIS News
Alle Ergebnisse in der Kategorie CACEIS News
RegWatch
October 2020
CACEIS Regulatory Watch Newsletter
EUROPEAN UNION
ANTI-MONEY LAUNDERING / COMBATING THE FINANCING OF TERRORISM (AML / CFT)
ARTIFICIAL INTELLIGENCE (AI)
BENCHMARKS REGULATION (BMR)
BREXIT
CAPITAL MARKETS UNION (CMU) ACTION PLAN
CENTRAL SECURITIES DEPOSITARY REGULATION (CSDR)
COVID-19 REGULATORY MEASURES
DATA PROTECTION / GENERAL DATA PROTECTION REGULATION (GDPR) / EPRIVACY REGULATION (EPR)
DIGITAL FINANCE PACKAGE
DIRECTIVE ON ADMINISTRATIVE COOPERATION IN THE FIELD OF TAXATION (DAC 6)
EUROPEAN MARKET INFRASTRUCTURE REGULATION (EMIR)
FINANCIAL SUPERVISION
INVESTMENT FUNDS / COLLECTIVE INVESTMENT SCHEMES (CIS) / ASSET MANAGEMENT
MARKET ABUSE DIRECTIVE & REGULATION (MAD / MAR)
MONEY MARKET FUNDS REGULATION (MMFR)
REGULATION ON DIGITAL OPERATIONAL RESILIENCE FOR THE FINANCIAL SECTOR (DORA)
SECURITISATION REGULATION
SUSTAINABLE FINANCE / GREEN FINANCE
BELGIUM
ANTI-MONEY LAUNDERING / COMBATING THE FINANCING OF TERRORISM (AML / CFT)
MARKETS IN FINANCIAL INSTRUMENTS DIRECTIVE AND REGULATION (MIFID II / MIFIR)
FRANCE
BANKING SUPERVISION
BREXIT
COVID-19 REGULATORY MEASURES
FINANCIAL MARKET AMEDMENT LAW
INVESTMENT FUNDS / COLLECTIVE INVESTMENT SCHEMES (CIS) / ASSET MANAGEMENT
MARKETS IN FINANCIAL INSTRUMENTS DIRECTIVE AND REGULATION (MIFID II / MIFIR)
PAYMENT SERVICES DIRECTIVE(PSD2)
PROSPECTUS REGULATION
SECURITISATION REGULATION
SUSTAINABLE FINANCE / GREEN FINANCE
GERMANY
ANTI-MONEY LAUNDERING / COMBATING THE FINANCING OF TERRORISM (AML / CFT)
DIRECTIVE ON COVERED BONDS
FINANCIAL SUPERVISION
INFORMATION TECHNOLOGY (IT) / INFORMATION AND COMMUNICATIONS TECHNOLOGY (ICT)
HONG KONG
BENCHMARKS REGULATION (BMR)
SUSTAINABLE FINANCE / GREEN FINANCE
IRELAND
ANTI-MONEY LAUNDERING / COMBATING THE FINANCING OF TERRORISM (AML / CFT)
BREXIT
GOVERNANCE
INVESTMENT FUNDS / COLLECTIVE INVESTMENT SCHEMES (CIS) / ASSET MANAGEMENT
ITALY
COVID-19 REGULATORY MEASURES
FINANCIAL REPORTING
INTEREST RATE
SUSTAINABLE FINANCE
TRADE LAW
LUXEMBOURG
ANTI-MONEY LAUNDERING / COMBATING THE FINANCING OF TERRORISM (AML / CFT)
COVID-19 REGULATORY MEASURES
CYBERSECURITY
DIRECTIVE ON SECURITY OF NETWORK AND INFORMATION SYSTEMS (NIS DIRECTIVE)
FINANCIAL SUPERVISION
INVESTMENT FUNDS / COLLECTIVE INVESTMENT SCHEMES (CIS) / ASSET MANAGEMENT
OUTSOURCING ARRANGEMENTS
SUSTAINABLE FINANCE / GREEN FINANCE
NETHERLANDS
ANTI-MONEY LAUNDERING / COMBATING THE FINANCING OF TERRORISM (AML / CFT)
BREXIT
CAPITAL REQUIREMENTS / CRD / CRR / BASEL III/IV
FINANCIAL MARKET AMENDMENT LAW
FINANCIAL SUPERVISION
SWITZERLAND
BENCHMARKS REGULATION (BMR)
BLOCKCHAIN / DISTRIBUTED LEDGER TECHNOLOGY (DLT)
COVID-19 REGULATORY MEASURES
CYBERSECURITY
DATA PROTECTION / GENERAL DATA PROTECTION REGULATION (GDPR) / EPRIVACY REGULATION (EPR)
FINTECH /REGTECH / BIGTECH / SUPTECH / DIGITAL ECONOMY
MARKETS IN FINANCIAL INSTRUMENTS DIRECTIVE AND REGULATION (MIFID II / MIFIR)
SECURITIES
SWISS FINANCIAL SERVICES ACT (FINSA)
UNITED KINGDOM
COVID-19 REGULATORY MEASURES
CRYPTOASSETS / CRYPTOCURRENCIES / VIRTUAL CURRENCIES
EUROPEAN MARKET INFRASTRUCTURE REGULATION (EMIR)
FINANCIAL SERVICES
FINANCIAL SUPERVISION
FINTECH /REGTECH / BIGTECH / SUPTECH / DIGITAL ECONOMY
RESOLUTION & RECOVERY
SENIOR MANAGERS & CERTIFICATION REGIME (SM&CR)
INTERNATIONAL
ANTI-MONEY LAUNDERING / COMBATING THE FINANCING OF TERRORISM (AML / CFT)
BENCHMARKS REGULATION (BMR)
CAPITAL MARKETS UNION (CMU) ACTION PLAN
COVID-19 REGULATORY MEASURES
CROSS-BORDER TRANSACTION
FINANCIAL MARKET INFRASTRUCTURE (FMI)
GLOBAL ECONOMY & MARKETS
SECURITIES FINANCING TRANSACTIONS REGULATION (SFTR)
SUSTAINABLE FINANCE / GREEN FINANCE
Alle Ergebnisse in der Kategorie REGWATCH
Corporate
Alle Ergebnisse in der Kategorie CORPORATE
Referenzen
Taking action on ESG and climate change
Transforming tomorrow: Rising to the new normal of ESG and Climate change factors and risks
ESG is the acronym of our time. Embracing Environmental, Social and Governance (ESG) concerns within investment portfolios has never been higher on the agenda. Asset owners and investment managers are increasingly integrating ESG factors into their financial analysis and investment decision making.
To understand the current state of play among UK pension schemes, CACEIS partnered with the Pensions and Lifetime Savings Association (PLSA) to ask PLSA members representing pension schemes of all shapes and sizes about their attitudes towards ESG, climate change and more broadly, with a view to charting current thinking and how pension schemes are looking to the future in relation to their governance considerations on ESG and climate change.
The survey also aimed to understand the areas which participants believe will be the most pertinent for pension schemes in the future and the fields where trustees may need further support or training.
Alle Ergebnisse in der Kategorie ESG
Alle Ergebnisse in der Kategorie REFERENZENPapers
CACEIS Emetteurs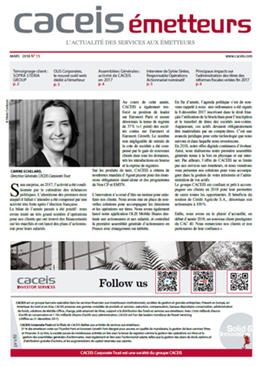 CACEIS Emetteurs N°15 — Mars 2018
L'actualité des services aux émetteurs
Témoignage client : Sopra Steria Group
OLIS Corporates, le nouvel outil web dédié à l'émetteur
Assemblées Générales : activité de CACEIS en 2017
Interview de Sylvie Sintes, Responsable Opérations Actionnariat Nominatif
Augmentations de capital réservées : enrichissement de l'offre CACEIS
Principaux impacts sur l'administration des titres des réformes fiscales votées fin 2017
Alle Ergebnisse in der Kategorie CACEIS émetteurs
Decryptage
N°114 - Juin 2019
L'actualité juridique et réglementaire
ACTUALITÉS LÉGISLATIVES ET RÉGLEMENTAIRES
TEXTES LÉGISLATIFS ET RÉGLEMENTAIRES NATIONAUX
TEXTES LÉGISLATIFS ET RÉGLEMENTAIRES EUROPÉENS

COMMUNICATION AMF
INSTRUCTION
DÉCISION
POSITION
ÉTUDE
GUIDE

AUTRES COMMUNICATIONS FRANÇAISES
ACPR (AUTORITÉ DE CONTRÔLE PRUDENTIEL)
AFTI
CNIL
TRACFIN

ACTUALITÉS EUROPÉENNES
CONSEIL DE L'UE
COMMISSION EUROPÉENNE
EBA (EUROPEAN BANKING AUTHORITY)
ESMA (EUROPEAN SECURITIES AND MARKETS AUTHORITY)
Alle Ergebnisse in der Kategorie Decryptage
EDHEC-Risk Institute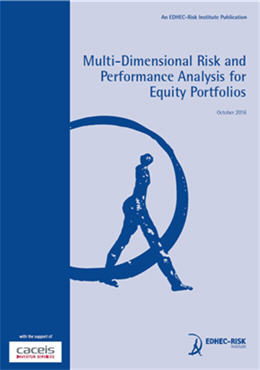 Multi-Dimensional Risk and Performance Analysis for Equity Portfolios
An EDHEC-Risk Institute Publication
In this study, EDHEC-Risk Institute explores a novel approach to address the challenge raised by the standard investment practice of treating attributes as factors, with respect to how to perform a consistent risk and performance analysis for equity portfolios across multiple dimensions that incorporate micro attributes.