Overview
The international tax reporting standard AEOI (Automatic Exchange Of Information) requires financial institutions and companies in a contractual relationship with financial counterparties to report the tax residence of their clients in countries that have signed up to the regulation.
Drafted by the OECD at the request of the G20 and adopted by around a hundred countries, including 58 early adopters, AEOI introduces common standards for the multilateral exchange of information regarding financial accounts.
Since 1 January 2016, financial institutions must identify all their existing and new clients and require their tax residence for tax purposes.
AEOI aims to reduce tax leakage to ensure the source juridictions can identify taxpayers and collect the appropriate tax from holding financial assets outside their country of residence.
To make sure a consistent processing for the automatic exchange of information is introduced across the European Union, the European Commission proposed to include the draft common standard in a directive reforming the existing directive on administrative cooperation in the field of taxation ("DAC"). This proposal gave rise to the DAC2 Directive of 9 December 2014.
The first automatic exchange of information (CRS*, Common Reporting Standard) took place in 2017 and consisted of data collected in 2016.
To avoid capital flight to neighbouring countries, other jurisdictions (including Switzerland, Andorra, San Marino, Liechtenstein, Bahamas) have undertaken to participate in reporting from 2018, joining Jersey, Guernsey, the Cayman Islands, the British Virgin Islands and the Isle of Man.
Who is concerned and how?
CRS reporting will cover private investors and companies holding an account in a country outside their country of residence.
Two kind of data will be gathered by financial institutions:
Banking data (account balances, interest, dividends, capital gains and any other financial income)
Reference data (name, residence address, tax residence address, country, date of birth, etc.)
These reference data will be identified through a self-certification. This document, mandatory by EAI rules, should be completed by the account holder (individual or company), signed and sent to the reporting institution in charge of reporting to the local tax authority.
In case of change of any of these datum (considered a change in circumstances by EAI), the account holder must complete a new self-certification to indicate these changes to the same reporting institution.
The standard model of CACEIS is available by clicking on the opposite image. If you are a client of CACEIS or an investor you must complete it, sign it and contact your Asset manager or the contact they provided.
Financial institutions face a number of challenges, including identifying the tax residence of end investors. They will also have to assess the new reporting requirements and the quantity of information to be provided to local tax authorities. Different interpretations of the CRS may be applied in different jurisdictions. The scope of data to be reported is broader than for FATCA, since all income is taken into account (save for a few rare exceptions on certain insurance policies). Unlike with FATCA, ETFs, other listed funds and UK trusts are not exempt from the reporting requirements.
Summary table FATCA vs AEOI: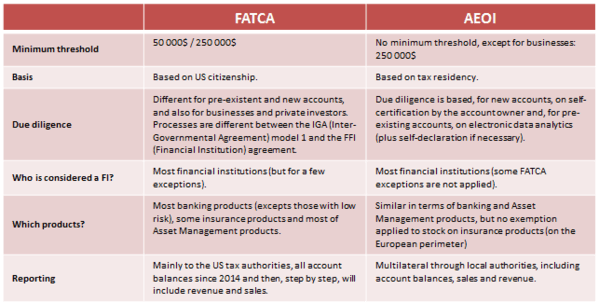 ---
Self-certification