CACEIS News
CACEIS News No. 57 - April 2019
The Asset Servicing Journal
CACEIS in Germany, high grow potential
Third-party administration in Germany is a fast growing activity
CACEIS's Securities Class Actions offer plays a key role in protecting investor assets
DRRT's testimonial
CACEIS, key player in agricultural commodities futures
Client testimony - AGRIAL
Report for French Real Estate Wealth Tax on TEEPI
Solvency II Directive, an operational model still working itself out
Artificial Intelligence: what impacts for fund management
Country Focus - Germany
CACEIS Emetteurs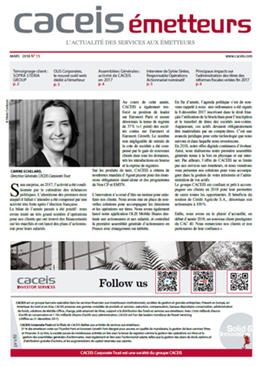 CACEIS Emetteurs N°15 — Mars 2018
L'actualité des services aux émetteurs
Témoignage client : Sopra Steria Group
OLIS Corporates, le nouvel outil web dédié à l'émetteur
Assemblées Générales : activité de CACEIS en 2017
Interview de Sylvie Sintes, Responsable Opérations Actionnariat Nominatif
Augmentations de capital réservées : enrichissement de l'offre CACEIS
Principaux impacts sur l'administration des titres des réformes fiscales votées fin 2017
Reference Papers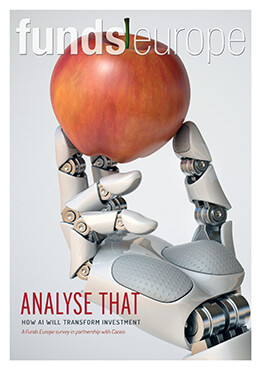 Analyse that: How AI will transform investment
A Funds Europe survey in partnership with CACEIS

Artificial intelligence is widely talked about in financial services.
But, arguably, the industry still lags behind other sectors – particularly technology giants such as Amazon, Google, Netflix, Apple and Facebook – in putting artificial intelligence (AI) applications to work.
Funds Europe, in association with Caceis, surveyed the industry to assess what the future holds for asset management firms intending to apply AI.
80% of respondents said that artificial intelligence and data engineering are tools that all investment managers will use in the future.
66% said that AI will deliver benefits across the front, middle and back office.
The major impediments to applying AI are a lack of maturity in the technology and a lack of existing use cases that demonstrate how it can be applied.
24% said key decision-makers still fail to understand how AI will bring value to customers.
40% of respondent firms have already started their AI research and development projects, while 11% said that they will be launching their AI projects in the next 12 months.
A total of 270 funds professionals participated in the online survey.
Corporate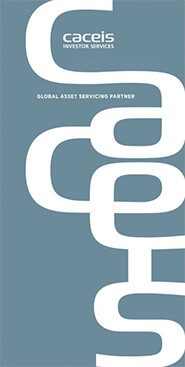 Corporate Brochure 2019
Global Asset Servicing Partner
CACEIS is an asset servicing bank specialising in post-trade functions related to administration and monitoring of all asset classes. With a solid IT infrastructure, we provide execution, clearing, custody, depositary and asset valuation services in markets worldwide to assist institutional and corporate clients in meeting their business development objectives.
Decryptage
N°112 - Avril 2019
L'actualité juridique et réglementaire
ACTUALITÉS LÉGISLATIVES ET RÉGLEMENTAIRES
TEXTES LÉGISLATIFS ET RÉGLEMENTAIRES EUROPÉENS
TEXTES LÉGISLATIFS ET RÉGLEMENTAIRES FRANÇAIS
COMMUNICATION AMF
AUTRES COMMUNICATIONS FRANÇAISES
ACTUALITÉS EUROPÉENNES
ACTUALITÉS INTERNATIONALES
EDHEC-Risk Institute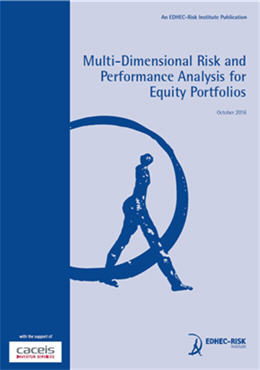 Multi-Dimensional Risk and Performance Analysis for Equity Portfolios
An EDHEC-Risk Institute Publication
In this study, EDHEC-Risk Institute explores a novel approach to address the challenge raised by the standard investment practice of treating attributes as factors, with respect to how to perform a consistent risk and performance analysis for equity portfolios across multiple dimensions that incorporate micro attributes.