Interview of Philippe Bens, Managing Director of CACEIS, Switzerland.
With increasing life expectancy in Europe, Pensions have become a key challenge in the political and economic environment. European pension schemes differ greatly by country and so far have been subject to mostly national reforms. However, the European Commission has become increasingly concerned about the availability of pensions and public financing.
On December 20th 2019, has been closed the strategic combination of Santander Securities Services (S3) and CACEIS. Jean-François Abadie, CEO of CACEIS, and Carlos Rodríguez de Robles, Managing Director of CACEIS in Spain and in Latin America, talk about the objectives and the expected benefits of the transaction.
In light of the rapidly developing Covid-19 pandemic and the containment measures taken by various national governments, CACEIS has taken the necessary steps to deal with the situation.
Following the success of TEEPI -Tailored Electronic Exchange Platform for Investors - which now brings together more than 300 participants, CACEIS is growing the scope of its collaborative platform by integrating "Market Place", a digital solution for the subscription and aggregation of fund shares.
Interview with Sikko van Katwijk, Chairman of the Managing Board, KAS BANK
Nova publicacão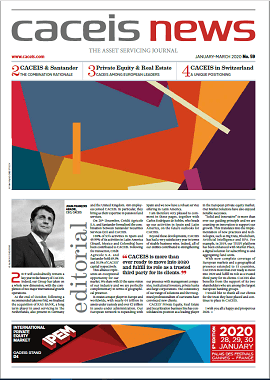 CACEIS News No. 59 - January 2020
The Asset Servicing Journal
CACEIS and Santander create a major global player in asset servicing
CACEIS strengthens its position as European leader
AI serving the reading of fund prospectuses
"We are now one of Switzerland's leading real estate fund administrators"
CACEIS strengthens its team of securities finance experts
CACEIS improves its service offering dedicated to ETFs
CACEIS contributes to vote processing procedures
ESG reporting and extra-financial data sovereignty
Fighting plastic polution in oceans
Country Focus - Switzerland
Todas as ediçãos da categoría CACEIS NEWS