OLIS is our client web portal providing a central access to all Caceis'services.
Join OLIS: www.olisnet.com
OLIS is the entry point to Caceis' services and provides a real-time overview of activity. The platform is constantly improved to offer a complete and secure digital solution for management, reporting, analytical monitoring and selfcare modules.
OLIS is above all :
An intuitive digital platform : to monitor activites in real-time within a Dashboard and dedicated business pages
A simple and intuitive charts representation : few clicks to access the right information and provide a better customer follow up

Access to detailed data at any time :

within each business page. Filtering, sorting and export functions in XLS format

A library

: with all the necessary documents available in complete autonomy
Be informed : the notification center is a to do list. It centralizes and highlights the actions and tasks to be carried out. It can be accessed at any time with a single click.
Be autonomous : the selfcare module allows you to have a visualization oh the users of your organization and to manage their access rights to the OLIS platform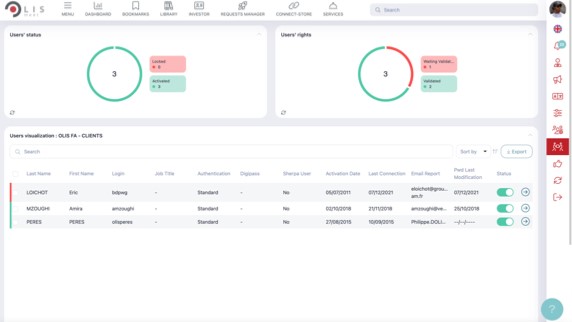 Characteristics and key features

Reporting : automatic reception (multi-channel and multi-format) of information or data for all businesses
Security & Confidentiality : secure environnement, rights and perimeter management tailored to client needs.
User-friendly environnement : with charts representation and color coding, navigation on OLIS provides you access to the right information with few clicks

Tracking of your requests : new modules to initiate requests to manage (create, modify, close) accounts in a digital way and to monitor request progress in full transparency
Why joining OLIS
OLIS offers a centralized, organized and simplified experience to its clients.
. A co-build platform in constant evolution to improve the user's experience and to meet their expectations.
. A close service for clients through a rich Q&A and a sharing experience with the feedback space