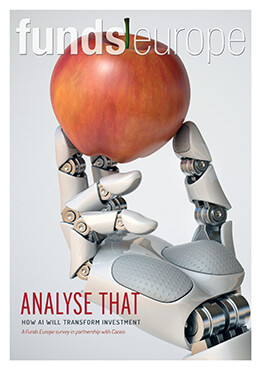 Analyse that: How AI will transform investment
A Funds Europe survey in partnership with CACEIS

Artificial intelligence is widely talked about in financial services.
But, arguably, the industry still lags behind other sectors – particularly technology giants such as Amazon, Google, Netflix, Apple and Facebook – in putting artificial intelligence (AI) applications to work.
Funds Europe, in association with Caceis, surveyed the industry to assess what the future holds for asset management firms intending to apply AI.
80% of respondents said that artificial intelligence and data engineering are tools that all investment managers will use in the future.
66% said that AI will deliver benefits across the front, middle and back office.
The major impediments to applying AI are a lack of maturity in the technology and a lack of existing use cases that demonstrate how it can be applied.
24% said key decision-makers still fail to understand how AI will bring value to customers.
40% of respondent firms have already started their AI research and development projects, while 11% said that they will be launching their AI projects in the next 12 months.
A total of 270 funds professionals participated in the online survey.