Global Asset Servicing Partner
CACEIS is the asset servicing banking group specialising in post-trade services for all asset classes. With a solid IT infrastructure, it provides execution, clearing, custody, depositary, asset valuation and issuer services in markets worldwide to assist institutional investors, global custodians, insurance companies, asset management companies, pension funds, private equity funds, banks, brokers and corporate clients. As a specialist in operational process outsourcing, CACEIS creates an environment that ensures its clients can focus on their core business.
CACEIS benefits from the support of its original shareholder Crédit Agricole SA, as well as Santander. At the end of 2019, the leading bank in the Spanishmarket combined its asset servicing and institutional custody activities in Spain and Latin America (Brazil, Mexico and Colombia) with CACEIS. The merger between CACEIS and Santander Securities Services (S3) strengthens the CACEIS group's position as a major global player in asset servicing.
CACEIS is a long-term strategic partner for its clients.
A Follow-the-Sun Model
With a global presence across in all time zones, CACEIS provides continuity of service to all clients.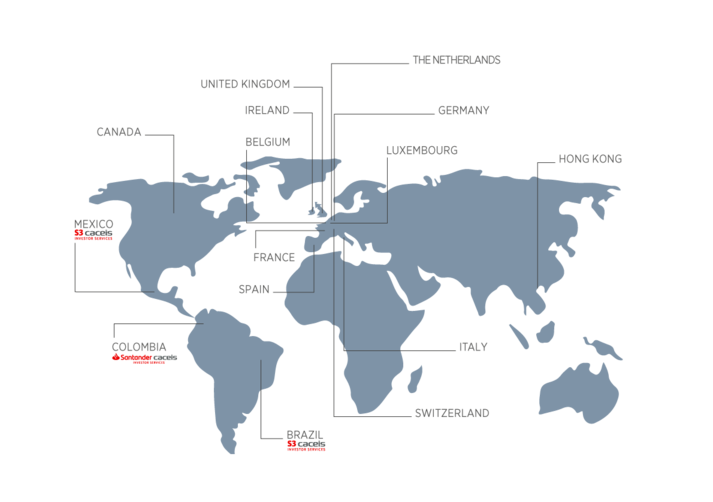 CACEIS' Ratings
| Ratings | S&P | Moody's* | FitchRatings* |
| --- | --- | --- | --- |
| Long-term senior unsecured debt | A+ | Aa3 | A+/AA- |
| Last rating action | 19/10/2022 | 15/12/2021 | 19/10/2022 |
| Short-term senior debt | A-1 | Prime-1 | F1+ |
*CACEIS benefits from Crédit Agricole's overall rating
---
Sustained Business Growth
With an innovative product offering, that's adapted to changing market practices and regulatory requirements, CACEIS is a leading global provider of custody, depositary and fund administration services. Steady growth in terms of assets, clients and geographical coverage makes CACEIS a reliable partner for its clients. All resources are devoted to asset servicing, providing optimal solutions for clients seeking an expert partner that is both innovative and financially solid. CACEIS' capital is prudentially allocated to ensure clients' assets are fully protected, alongside investment in technology to provide clients high service levels.
CACEIS also offers clients a rigorous compliance system that fosters the stable and sustainable development of their business activities.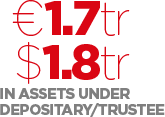 As of December 31st, 2022
---
The Power to Innovate
CACEIS has long been an asset servicing company fully committed to its digital transformation. It has implemented a strategy to digitalise its value chain to better serve clients and improve their experience of working with CACEIS.
With an ambition to offer innovative and agile solutions to drive a more efficient service, CACEIS remains focused on digitalising the client journey, from account opening and contract signature through to measuring satisfaction by implementing it's "Leading by Client Satisfaction" process.
A successful digital transformation requires a collaborative approach with the users of all services provided by CACEIS, placing clients at the heart of the product creation process.
Discover our Digital Platforms
---
Strong Corporate Responsibility
CACEIS believes that strong corporate social responsibility is a source of long-term growth, which includes a deep commitment to being a reliable partner for its clients by adding sustainable value. CACEIS' ESG strategy reflects its commitment to supporting the climate transition by assisting its clients in the implementation of their ESG regulatory obligations and assessing their portfolios for a more carbon-free world.
Concerned about its own social and environmental impacts, and aware of its duty to set an example, CACEIS has been measuring its direct environmental footprint for many years and implementing action plans to reduce it.
CACEIS' code of conduct reflects the high standards of responsibility and quality that govern its professional activities, and a determination to always act in the best interests of clients and stakeholders. It encourages its suppliers to adopt this virtuous approach.
As a responsible employer, CACEIS has implemented a company policy aimed at helping its employees to improve their skills. Voluntary programmes covering compliance, diversity, fairness and quality of life at work bolster the ethical awareness, commitment and motivation of the teams.
CACEIS has created its Sustainability Center, a think tank that meets regularly to reflect on how to improve its actions and services to clients. It brings together CACEIS' employees invested in sustainable development to support CACEIS' energy transition, encourage the development of CSR, meet the growing expectations of the European regulator and accelerate the development of the ESG offering for its clients.
---
CACEIS' three CSR Pillars
1.
Supporting clients with confidence and security
2.
Taking action to promote the energy and environmental transition
3.
Being a responsible and committed employer
---
An International Sales Force
Excellence in client relationships is a key element in CACEIS' approach. Clients remain at the centre of all activities to provide personalised support that's adapted to their individual needs.
CACEIS' front-office teams have the experience to understand the commercial strategy and cater to the complex needs of its global clients. CACEIS develops a close working relationship with each of its clients by offering thema dedicated sales contact who guarantees the quality of the services provided.
Corporate Brochure 2022
Your Global Asset Servicing Partner
CACEIS is an asset servicing bank specialising in post-trade functions related to administration and monitoring of all asset classes. With a solid IT infrastructure, we provide execution, clearing, custody, depositary and asset valuation services in markets worldwide to assist institutional and corporate clients in meeting their business development objectives.
Todas as ediçãos da categoría CORPORATE