Local Management
Philippe Bens
Senior Country Officer / Head of Regional Coverage
CACEIS Bank, Switzerland Branch
Philippe Bens has more than 25 years' experience in Asset Servicing. He graduated from a Business University and started his career in 1989 with a 2 years management training at Bank of Luxemburg. He then joins Bank Indosuez, Luxemburg as a fund administration Manager. In 1994, he becomes Head of Depositary and Custody bank where he stayed for 6 years before becoming Senior Project Manager for Fastnet Luxemburg in charge of customer communication flows. In 2002, Philippe becomes Business Development Director for Switzerland, Benelux, Scandinavia and Middle East and it is in 2008 that he arrives in Switzerland to become Managing Director of CACEIS in Nyon, Switzerland, in charge of operational activities and business development with a focus on Real Estate.
With the creation of CACEIS Bank Switzerland Branch in Nyon in 2015, Philippe becomes Senior Country Officer and Head of Regional coverage for all CACEIS activities in Switzerland.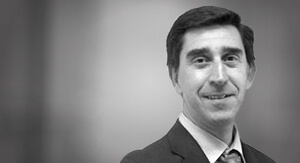 Oscar Garcia
Chief Executive Officer
CACEIS (Switzerland) S.A.
Oscar is Chief Executive Officer of CACEIS (Switzerland) S.A. since February 2018. Prior to this he worked in Ireland as CEO of CACEIS Ireland Limited and Senior Country Officer of CACEIS Group in Ireland. Oscar joined CACEIS in 2007. Oscar started his career in the Financial Services sector in the late eighties working for The Sumitomo Bank Ltd. (Spain). He moved to Ireland in 2002 as Managing Director of Dexia Fund Services. Prior to that he held a number of senior positions at the Spanish subsidiary of Dexia Group were he was appointed Head of Operations. He was also Managing Director and Partner of Vetusta Fund Management, an Asset Management company incorporated in Ireland.
Oscar holds an Executive Master's Degree in Business Administration from the IE Business School in Madrid and a BA (Hons) Degree in Financial Services from the Liverpool John Moores University - Dublin Business School. He also spent three years studying Marketing and Commercial Management at ESIC Business School Madrid.