Local Management
Carlos Rodríguez de Robles
Deputy Chief Executive Officer, in charge of Market Solutions and Network management
Managing Director in Spain and LatAm
Carlos Rodríguez de Robles was appointed Deputy CEO of CACEIS on February 11th 2020. Until that, he had been CEO of Santander Securities Services since July 2014.
Carlos was Head of Transaction Banking from 2013 to 2014 and from 2007 to 2009. He was member of the Executive Committee of Santander Global Banking and Markets (SGBM) from 2004 to 2014.
In 2009 he moved to Banco Santander Mexico as Deputy General Manager, member of the Board, and Head of Global Banking and Markets.
Carlos joined Santander in 2004 as head of Business Development and Financial Control of SGBM.
Prior to Santander, Carlos worked as a senior consultant at Mckinsey (2001-2004), working with financial institutions and telecom clients. From 1996 to 1999, he worked at Cemex in Spain and Egypt where he was Head of Capital Markets. He started his career and at Hambros Bank in 1995 in London as an executive in the Investment Banking division.
Carlos received his MBA from the Tuck School of Business at Dartmouth College (Hanover, NH, USA) and got a Bachelor in Economics and Business studies from Universidad Complutense in Madrid, Spain.
Carlos is married with Lola and they are parents of nine.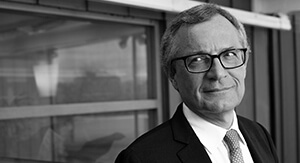 Eric Derobert
Deputy Managing Director in Spain and LatAm
Deputy Managing Director in Spain and LatAm, he held various functions for Crédit Commercial de France (currently, HSBC France), including within the foreign banking network (Spain, USA, Italy) and Group General Inspection, between 1982 and 2002, before being appointed as a Director of HSBC-DEWAAY Bank in Brussels. He joined Crédit Agricole Investor Services as Chairman and Chief Executive Officer of Fastnet France in 2002, a post he held until 2004. In 2005, he became Head of Market Relations and then later Head of Public Affairs at CACEIS. His responsibilities were then enlarged to include heading up the Communications Department in early 2014. He has also been Chairman of the French Association of Securities Services Professionals and a member of numerous French and European professional commissions and working groups. On February 2020, he is appointed Deputy Managing Director in Spain and LatAm.
Eric Derobert graduated from Institut d'Etudes Politiques in Paris and has also studied international law.