Helping you find your feet
Our welcome and induction programme supports new recruits throughout their first year at CACEIS.
Induction highlights:
Day one: welcome meeting with the Human Resources Department

Participation in an induction and group presentation seminar

Regular interaction with your manager and HR co-ordinator (interview at the end of the probation period)

I

ntroduction to CACEIS' businesses through a training programme and participation in mandatory fraud and compliance training sessions
Nurturing your skills
Nurturing our employees' skills, helping them to realise their ambitions and making it easier for them to adapt to changes affecting the organisation and our businesses are major focal points for CACEIS.
At CACEIS, we particularly pride ourselves on enriching our employees' professional skillset and employability through customised training (in our businesses, management, foreign languages and IT).
Each year, we assess our employees' training needs and draw up a personal development plan.
We offer employees the opportunity to participate in a Life Experience Degree programme through continuous training in partnership with Paris Descartes University, as part of the professional Back and Middle Office degree course. 12 employees completed this degree in 2016.
CACEIS encourages employees to upgrade their knowledge and skills related to their job through continuous learning. In Ireland, CACEIS demonstrates this commitment to the development of its employees through an educational assistance programme.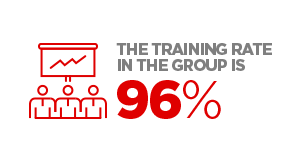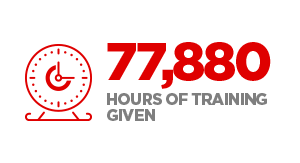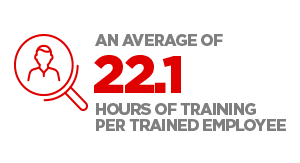 CACEIS is developing a mentoring policy to serve as the cornerstone of our knowledge transfer and learning initiative. This policy embodies our desire to help our employees find their feet, develop their skillset and enrich their career. Various mentoring scenarios are available within the company (apprenticeship, internship, graduate, employee on the Life Experience Degree, etc.).
A world of professional opportunities
Internal mobility is a key priority for career management. CACEIS offers their employees a wide range of career paths while also optimising our matching of resources to needs across all roles.
The CACEIS business forum and short 90-minute training sessions offered helps employees to become more familiar with our activities and prepares them for their next career move.
Our career management interview is just one of the tools in CACEIS' individualised career management programme. It enables employees to discuss their career, skills and professional future at length with the Human Resources department.
At CACEIS, we support managers throughout the Group by providing them with the tools they need to nurture their professional development and fulfil their role.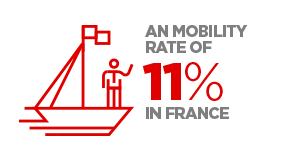 Unearthing talent
CACEIS has a collaborative talent management policy within the Group to identify and nurture employees with exceptional potential. Employees, managers and senior managers are heavily involved in this initiative.
A personnel review is organised each year in order to prepare a comprehensive professional assessment and an individual career management plan for each employee.
Every year, CACEIS recruits recent graduates across all activities and businesses. A two-year induction and loyalty programme is offered, focusing on three major themes: integration and skills development, career monitoring and development, recognition and rewards.
Benefitting from an attractive remuneration package
At CACEIS, we are committed to rewarding our employees, nurturing their skills and offering a level playing field to all in terms of career progression.
CACEIS' remuneration policy is based on three principles:
Rewarding individual performance:

The company encourages and rewards those employees with the best performance. Employees are rewarded for showing personal commitment and enhancing their skillset.
Ensuring fairness:

Backed by cross-disciplinary studies, the manager monitors fairness (in terms of professionalism and by role) whilst also being selective to incentivise personal commitment and performance.
Taking an holistic view of remuneration:

The remuneration package includes a fixed component, a variable component based on performance and other types of benefits:

collective remuneration programmes offering a stake in the company's profits and performance (profit-sharing scheme, incentive scheme, group savings plan, collective pension savings plan).

miscellaneous benefits (free social security, works council, etc.).
In total, almost a quarter of our employees' remuneration comes from these benefits.