Blue Sky Group (BSG), an independent pension administrator which has its origins in the KLM pension funds, has chosen CACEIS for the complete outsourcing of its services. This includes a fully integrated front-to-back solution developed and implemented by CACEIS. BSG uses a single platform for all traditional and alternative asset classes for the pension funds it manages. It also provides access to reporting services for supervisors and reports on ESG and climate risk. With this partnership, BSG can fully focus on its core business of asset management.
The front-to-back service package has been specially developed with SimCorp Dimension and includes fully integrated front-office functionality, portfolio management, order management, and pre-trade compliance monitoring, which is delivered as a software as a service (SaaS) solution. This is linked to fully outsourced investment administration, transaction processing and payment transactions, post-trade compliance monitoring, performance analysis, risk analysis, financial reporting and other reporting.
As a Dutch pension provider, this enables Blue Sky Group to offer its services and solutions to a wider group of clients. Blue Sky Group uses a real-time Investment Book of Records. This is a master-data repository that is used for the entire front-to-back process without the need for any IT footprint within Blue Sky Group. Portfolio managers have an integrated view of their portfolios and of every investment decision made by third-party managers. CACEIS has configured and provides support for the entire front office functionality.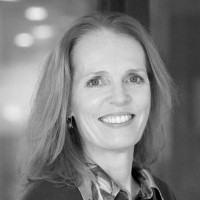 Caroline Muste, Managing Director of Blue Sky Group, comments: "By outsourcing to CACEIS, Blue Sky Group has made a significant step in its aim to provide client servicing with the highest possible rate of straight through processing. We have moved from six portfolio and risk management systems to a single one, which makes us more agile and significantly reduces operational risk. A migration of this magnitude has a major impact on our existing set-up, but we are delighted with the results that Blue Sky Group and CACEIS' teams have achieved".
Sikko van Katwijk, member of the Executive Committee of CACEIS group, adds: "We are very pleased to welcome Blue Sky Group as a new client in our European Pension Centre, where we have designed a single platform and unique service proposition together with Blue Sky Group, which has been live for some time. It is the CACEIS group's ambition, building on the knowledge available in Amsterdam from the key Dutch pension market, to become the preferred pension servicing partner in other European countries. This is why we are investing in our European Pension Centre, which is specially set up to export our expertise. CACEIS is the only player in the asset servicing industry that provides specialist services fully dedicated to the pensions industry."