Between April and June this year, CACEIS staff in France have gradually moved to the Flores building on Crédit Agricole's Montrouge campus near Paris. This new office marks a major change for CACEIS and kick-starts new momentum as we return to regular office life.
"One Building" was the name for CACEIS' two-year long project to regroup all French staff from offices from Place Valhubert in Paris and Issy-les-Moulineaux to a single site.
CACEIS in France now operates out of the brand new "Flores" offices, on shareholder, Crédit Agricole's Evergreen campus. The Head Office address for the four French CACEIS entities (CACEIS, CACEIS Bank, CACEIS Fund Administration, and CACEIS Corporate Trust) is 89-91 rue Gabriel Péri, 92120 Montrouge, with effect from 1st June 2022.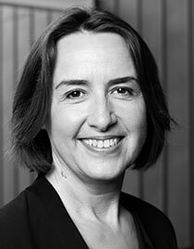 "The project was studied extensively, with staff involved in the process, to provide a welcoming and efficient working environment that meets their expectations", explained Carine Echelard, Managing Director of CACEIS in France. "The relocation was performed in several waves to ensure a smooth transition for the 2,200 staff members, and uninterrupted services for our clients".
Everyone is now based in a modern 6-storey building with over 33,000m² of office space, a staff restaurant and an interior patio. The Flores office is designed to optimise workflow efficiency, incorporating "new ways of working" concepts. It is a sustainable development initiative that has been designed and built in line with CACEIS' CSR policy to minimise our ecological footprint and promote the staff well-being. And to demonstrate our commitment, Flores has already attained an HQE sustainable passport and BREEAM certification. It has also earned an Effinergie+ label for efficient energy usage.
The layout of the Flores building follows a multi-space concept, where workspaces are organised according to individual usage requirements. Each staff member can choose to work in the zone that best suits their current activity. Flores also fits with today's "new ways of working" and is adapted to working from home (WfH) trends.
"Adopting a multi-space concept is part of CACEIS' overarching business transformation plan and is in line with Crédit Agricole's "Human Project" which focuses on cross-departmental team-working, personal accountability, and a greater sense of team spirit" Carine Echelard continued. "To help staff make the change and guide them in their day-to-day working lives, we have set up a system that includes webinars, intra- & inter-team workshops, as well as online courses."
An agreement on facilitating the change of workplace to Crédit Agricole's Evergreen site was signed with the works council to ensure a good work-life balance, in areas including transport and house moving. This is also an integral part of CACEIS' CSR policy in relation to promoting sustainable mobility.
By moving to the Evergreen campus, CACEIS staff are now in closer proximity to their Crédit Agricole sister companies, such as Crédit Agricole CIB, with which they share a common vision and values, particularly in terms of Credit Agricole's "Client Project". This proximity facilitates inter-company projects and so helps us work together in the interests of our clients.
With this move, CACEIS has gained new momentum just as we all return to regular on-site work. "We aim to enhance cross-departmental communication which serves to streamline communication between CACEIS' business lines - all working in unison to serve the Group's clients. We look forward to welcoming our clients to the Flores offices in a dedicated space", said Carine Echelard.
Address of CACEIS in France and new CACEIS head office: 89-91, rue Gabriel Péri, 92120 Montrouge
CACEIS mailing address in France: 12 place des Etats-Unis, CS 40083, 92549 Montrouge CEDEX