Internationale Vrouwendag (8 maart) is een wereldwijde dag waarop de sociale, economische, culturele en politieke verwezenlijkingen van vrouwen worden gevierd. De dag is ook een oproep tot actie om de gelijkheid van vrouwen te versnellen. Beta Steiner, Head of Execution & Market Services bij CACEIS Nederland, is een goed voorbeeld van de stijgende lijn die te zien is bij CACEIS van het aantal vrouwen in management posities. Hoe heeft zij de "glass ceiling" doorbroken?
Hoe heb jij de "glass ceiling" doorbroken?
Gelukkig heb ik dit nooit zo ervaren, maar ik kan mij wel voorstellen dat vrouwen zich, onterecht, meer moeten bewijzen dan mannen. Naast het feit dat kennis macht is, ben ik ervan overtuigd dat kennis delen een kracht is. Ik ben perfectionistisch en van nature nieuwsgierig wat maakt dat ik naast de managementtaken graag ook de inhoud wil begrijpen.
Hoe ervaar je het werken als vrouw in de financiële wereld wat toch voornamelijk een mannenwereld is?
Ik krijg regelmatig te horen hoe knap het is dat ik mij staande kan houden in een mannenwereld. Zelf ervaar ik dat helemaal niet zo. Het draait wat mij betreft ook niet zozeer om man of vrouw, maar juist om collega's die samenwerken en daarbij elkaar versterken. Dit is goed voor de persoonlijke ontwikkeling en in het belang van onze klanten en de bank.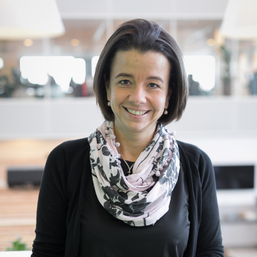 En hoe ervaar je dat specifiek bij CACEIS?
CACEIS is momenteel stappen aan het maken om meer vrouwen in management posities te krijgen. Een evenwichtig balans tussen mannen en vrouwen in management posities zie ik als de kracht van een organisatie waarbij er naast het puur zakelijke ook aandacht is voor de emotionele intelligentie.
Welke boodschap heb je voor de nieuwe generatie vrouwen?
Blijf bij jezelf en durf je open te stellen. Koester naast je zakelijke kwaliteiten ook de emotionele kant zoals je kunnen inleven in andere mensen, van nature nieuwsgierig zijn en oog hebben voor details.