CACEIS has long been an asset servicing company that is fully committed to its digital transformation. Many years before the pandemic and the rapid uptake of digital technology, we implemented a strategy to digitalise our value chain, to better serve our clients and improve their experience of working with our group.
Today, this approach is fully integrated into our group's global transformation plan launched in early 2021. Our objective is to provide innovative solutions and to strengthen CACEIS' business agility, increasing clients' feeling of proximity and satisfaction through more efficient and well-defined services and the deployment of digital tools.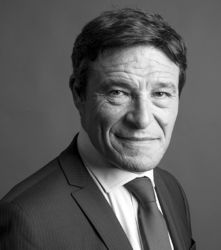 This edition of CACEIS News therefore provides an opportune moment to present an overview of the varied digital solutions that CACEIS staff are working on, which are available to you now or in the near future. You will find out how our group is continuing to digitalise the client experience, from the moment of entering into a relationship and signing a contract to the measurement of their satisfaction.
Since April, I have had the honour of being in charge of Business Development and, as such, supervising all of the CACEIS group's sales forces, as well as the General Secretary of Business Development. I am fully committed, together with the management and all of CACEIS' staff, to continuing the progress we have already made and to increasing the reliability of our services. We will continue to adapt our offer to differing client profiles, maintain the pace of our product development efforts, while passing on the benefits of operational efficiency gains to our clients.
The key to a successful digital transformation remains the human element, so we leverage both the commitment of all our staff, and our co-development approach with the users of our services. This is why we foster close working partnerships with our clients, including regular meetings, which serve an essential role in understanding their individual needs.
After more than 18 months without being able to meet in person, we are delighted to have finally found our way back to conferences, trade shows, and face-to-face meetings. Our participation in the Paris-based IPEM conference at the beginning of September was an excellent opportunity for us to network with our clients and other private equity players. Key staff members and I will be present at the AM Tech Day on 5th October in Paris and at the Fund Forum International from 20th to 22nd October in Monaco.
During this period of economic recovery, we are more ready than ever to listen to your needs in order to provide expert support for your long-term business development objectives.