Since acquiring RBC's European asset servicing activities on 1st July, CACEIS has a representative office in New York. The representative office's staff support North American asset management firms entering new markets outside the US and accessing new sources of capital. These activities mainly involve assisting with launching offshore funds, and ensuring a close business relationship between the asset managers themselves and our staff working across Europe, Latin America and Asia. Cyril Schopfer, Managing Director & Head of CACEIS in the US, explains the role CACEIS plays in the United States.
We have been operating in the US for around a decade, helping US managers distribute funds in Europe and other locations. And with thirty market-leading US fund houses among our clients, our US-market strategy has been very successful. Our New York rep. office conducts marketing, representational and administrative activities relating to custody and fund administration, transfer agency and ancillary services and acts as a liaison between US clients and CACEIS' global operational departments.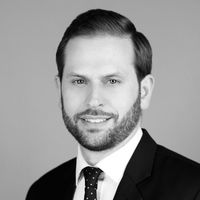 Our US fund manager clients are either already operating in Europe via UCITS or AIF funds, or are seeking to diversify and grow their investor base by accessing new distribution channels. We share with clients our extensive experience of operating in Europe's many jurisdictions, taking a very consultative approach and explaining market practices and business cultures that differ significantly from those of the US. There are many options available to companies looking to launch offshore funds, but two key jurisdictions stand out for cross-border distribution - Luxembourg and Ireland.
How does CACEIS differentiate itself from its US competitors?
CACEIS is a recognised specialist in foreign markets with an in-depth experience of European products, and is quick to respond to clients' due to our local presence and our responsive European entity network that covers 10 major markets. Client feedback highlights the benefits of our consultative approach, high-quality market information, service levels, the expertise of our teams, our practical approach to regulation, and our proven ability to support the largest and most innovative asset managers with high volumes and levels of complexity.
We provide support for European fund structures including UCITS (traditional mutual funds) and AIF (alternative investment funds such as private equity, debt, infrastructure, and real estate) in every European jurisdiction where we operate. In terms of non-traditional assets, US and European market trends are currently aligned, with investors looking to allocate a greater proportion of their portfolio to alternative assets. Our Private Equity and Real Estate division (PERES) is the leading depositary in several key European markets including Luxembourg, and is therefore in a position to offer scale and security to clients looking for a reliable servicing partner.
CACEIS has also been servicing the growing ETF sector for some 20 years, providing custody, administration and accounting services for these increasingly popular funds, whether synthetic or physical.
In addition to our extensive European coverage, CACEIS is also a market leader in Latin America via our joint venture with Santander, a well-known banking group in the region. This gives our US clients access to high-quality custody and fund administration services in the key Latin American markets.
Finally, CACEIS is also a pioneer in terms of the adoption and implementation of digital technology. Clients enjoy the cutting-edge technology solutions offered via our Digital Asset Factory for tokenisation services, and our Connect Store for accessing our Fintech partners' market-leading solutions.
We have a close working relationship with our two shareholders, Crédit Agricole Group and Santander. We also work closely with our sister company investment bank, Crédit Agricole CIB, which itself has deeply-rooted relationships with US market clients. We leverage our mutual strengths to provide a comprehensive fund servicing offer to US fund houses as well as business advisory services and financing solutions. Our financing solutions, an offer jointly developed with CA-CIB, covers committed subscription facilities, such as Equity Bridge Financing, designed for our alternative investment fund clients.
What are the current trends in the US market?
There is a growing number of US managers launching Luxembourg or Irish-domiciled funds rather than Delaware or Cayman-domiciled funds, to meet investor demand and offer better transparency and investor protection. CACEIS has played an important role in this transfer of capital to the European jurisdictions, supporting large clients' fund creation projects and helping them select the most appropriate distribution channels.
We are also witnessing the democratisation of private assets with a growing number of alternative asset managers targeting retail clients, enabling them to further diversify their client base. These open-ended funds require expertise in TA services and private investment fund administration - two areas where CACEIS excels, and a reason why we service some of the sector's largest and most innovative managers.
Finally, a trend that is currently being seen across the world – front, middle and back-office outsourcing - is also becoming more common in the US. As the asset management sector continues to grow and more managers have a range of foreign-law funds, US managers are looking to optimise their operating model by outsourcing non-core aspects of their business to third parties. Here again, CACEIS is in an excellent position to offer a comprehensive and modular range of well-established outsourcing solutions.