2022 was clearly an exceptional year for CACEIS. In our rapidly changing industry where investment is vital for overcoming regulatory, digital and environmental challenges, CACEIS demonstrated a responsive, innovative approach to preparing for the future and meeting our clients' needs. We continued to transform our Group, broadening its scope and adopting the ambitious 'Medium-Term Plan 2025'.
We have completed or are currently finalising a number of major external growth and partnership deals. The one with the biggest structural impact on our group was the memorandum of understanding signed with Royal Bank of Canada on 17th October for the acquisition of RBC Investor Services' European asset servicing business. This acquisition – for which all the usual regulatory and antitrust approvals are currently being sought – will be a source of considerable growth for CACEIS. It will add to our international coverage, reaching across a number of key markets and providing an enhanced range of services. It will considerably strengthen our competitive position in Luxembourg, Ireland and the UK for our international clientele. This would confirm CACEIS' position as the co-leader for asset servicing in Europe.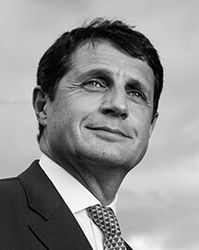 2022 was also the year in which an important partnership was cemented with BNP Paribas to merge our respective Corporate Trust Services businesses within a joint venture. Created on 1st January 2023 and owned on a 50:50 basis, the new company – Uptevia – combines the two banking groups' expertise with the aim of benefiting issuers and their investor shareholders by offering them a specialised and scalable range of services. Teams will be brought together at a common office in autumn 2023 and resources will be pooled to enhance the client experience.
We also joined forces with Amundi, taking a 33.33% stake in Fund Channel, a B2B fund distribution platform, to create a strategic partnership that will enhance fund distribution support services and address our clients' ongoing needs. This commercial agreement, which is likely to be extended to other growing services, will create value for both of our businesses as well as for distributors who are increasingly on the lookout for services along the entire investment and savings value chain. It will also strengthen Fund Channel's position as a major player in the rapidly growing European and Asian markets.
In a further example of our drive for innovation, we launched the Connect Store – a private marketplace offering our clients plug&play technology solutions developed by fintech firms selected by CACEIS. These include Clarity AI, whose exceptional expertise and platform help our clients fulfil their environmental commitments. This alliance with Clarity AI makes good business sense at a time when investors are increasingly having to justify the positive ESG nature of their investments to meet numerous regulations linked to sustainable finance.
I would not be able to sign off from this review of 2022 without mentioning the move of CACEIS' headquarters to new premises on Crédit Agricole's Evergreen Campus. The Flores building holds HQE and BREEAM certification for building sustainability, and is perfectly aligned with CACEIS' CSR commitments, enabling new ways of working and facilitating cross-company team-working.
Finally, I would like to congratulate all CACEIS staff for their hard work and the many business wins in 2022. I am also very grateful to our clients for the ongoing trust they show.
With my time leading the group about to draw to a close, a new CEO will soon be appointed. It has been a great privilege for me to work at CACEIS over these many years.
I have full confidence in the future of CACEIS and of our clients, and would like to wish you all good health and happiness for 2023.

Jean-François Abadie, CEO CACEIS