CACEIS x FundGlobam
All-in solutions to support cross-border fund distribution
For Asset Managers & Investors

CACEIS has added FundGlobam-DiGital* all-in fund distribution support services to its integrated asset servicing offering. The solutions include market intelligence and distribution support, including regulatory monitoring and market watch in more than 80 jurisdictions, as well as full operational support on each distribution market and network.
Cross-border distribution is critical to each asset manager's success: CACEIS continues to integrate its asset servicing offering with FundGlobam's end-to-end solutions, effectively covering the whole fund distribution value chain.
Asset managers will now be able to benefit from an integrated offer to support their business development, both in their domestic market and in foreign markets, inter alia: with global coverage in over 80 markets and full compliance with all local regulatory standards, this is a one-of-a-kind integrated outsourcing fund distribution support solution. Market intelligence and operational assistance are integrated effectively across the fund distribution value chain. Given the benefits of an integrated online solution, time-to-market and operational workload can be optimized, as well as running expenses can be reduced.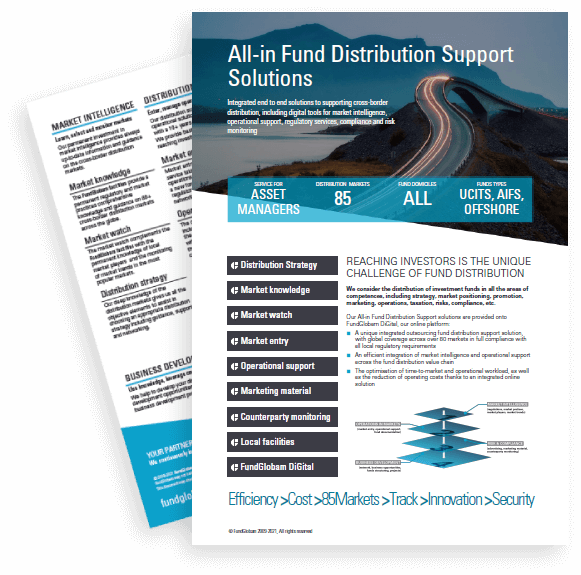 Download the Factsheet
CACEIS x FundGlobam - All-in solutions to support cross-border fund distribution

Download PDF Download PPT
MARKET INTELLIGENCE

Select, plan, and monitor cross-border markets: the FundGlobam fact files, which provide complete information and guidance about the cross-border distribution of investment funds in foreign markets, are a permanent investment in market intelligence. Database of regulations and market practices.

✔ Market players knowledge
✔ Market trends
✔ Distribution strategy
✔ Market assessments
DISTRIBUTION SUPPORT

Enter cross-border markets, manage operations, and monitor risk: operational managed services encompass the provision and/or management of all operations required when selling funds or asset management services in a foreign market.

✔ Market entry
✔ Operational support
✔ Regulatory compliance
✔ Counterparty monitoring
✔ Local facilities
BUSINESS DEVELOPMENT

Develop and manage your cross-border market development: assisting with knowledge sharing, using our outsourcing and networking capabilities, and assisting with the development of new cross-border commercial prospects. Personalized assistance

✔ Project management
✔ Distribution vehicles
✔ Networking
✔ Proactive opportunities

FUNDGLOBAM DIGITAL

FundGlobam DiGital, an online platform with services available 24 hours a day, 7 days a week: Our online platform's first generation is a productivity and cost-effective tool that offers end-to-end managed solutions, including market information and distribution support services. An all- in integrated online solution:

✔ Market intelligence
✔ Distribution support
✔ Documents and dissemination services
✔ Conferencing

6 reasons to choose FundGlobam
01.

EfficiencyFundGlobam solutions are efficient and practical, based on extensive expertise in cross-border distribution markets and a constantly growing client base.

02.

Costs FundGlobam's sustained investment in market intelligence and digital tools enables us to share costs, price fairly, and save money for our clients.

03.

GeographyFundglobam offers a wide range of services, including global coverage of more than 80 markets and continuing operational support in more than 40 jurisdictions.

04.

Credibility FundGlobam has over a decade of experience serving asset managers of all sizes, tier-1, tier-2, and tier-3, and of all types, corporate and entrepreneurial, from 15 different jurisdictions. Their clients make up 20% of the IDE-Top-400.

05.

Innovation FundGlobam invests heavily in technology on a regular basis, particularly in FundGlobam DiGital and our digital tools, which combine best-in-class services with automation and industrialization features.

06.

Security FundGlobam products are delivered on a secure platform that separates and encrypts data to ensure data confidentiality and security, as well as providing a high level of access management security.
To know more about FundGlobam
Our Worldwide Capabilities
84Markets Under Market Intelligence
4.2trIn Assets Under Custody
1.250Funds under service
2.2trIn Asset Under Administration
850FundGlobam Fact files
40Markets Under Operation