Last September, Amundi and CACEIS announced the strengthening of their strategic agreement to accelerate the development of Fund Channel, the B2B fund distribution platform. CACEIS will purchase 33.33% of Fund Channel's share capital while Amundi remains the majority shareholder.
Pierre-Adrien, could you present Fund Channel's activity and services in a few lines?
Fund Channel is a B2B fund distribution platform created in 2005 and currently operates across a dozen countries in Europe and Asia. Our majority shareholder is Amundi alongside CACEIS, which is due to take a 33% stake, pending regulatory approval.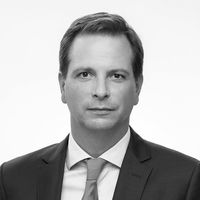 Our main role is to facilitate the distribution of investment products from asset managers to distributors and their end-investors. Alongside technology and investment solutions, the platform provides an infrastructure with contract and fee management services, oversight services, and fund data, plus market intelligence supported by our comprehensive digital ecosystem approach.
Through our platform, our 100 client distributors can access more than 100,000 investment funds worldwide from 600 asset management companies. At the end of 2021, Fund Channel experienced rapid growth over the last two years, reaching total Assets under Intermediation of €330 billion, up from €224 billion in 2020. As part of Amundi's strategic plan, Fund Channel is seeking to capture powerful new distribution trends and has set an ambitious growth target of more than €600 billion in Assets under Intermediation by 2025.
What does this partnership bring to the parties, Fund Channel, CACEIS, and their respective clients?
This partnership is an excellent fit for both companies as it is part of their shared ambition to accelerate growth in the fund distribution market, and reinforces their offerings in fund execution and the asset safekeeping business. Above all, it leverages our respective strengths.
Traditionally, Fund Channel provides two categories of services: fund distribution & administrative services, and digital services such as regulatory reporting and market intelligence. However, of the introduction of fund execution and safekeeping capacity enhances the product offering.
By joining forces with CACEIS, our value proposition to clients is stronger; they benefit from a comprehensive line-up of operational and value-added services. We also see mutual cross-selling opportunities among the client base.
This partnership enables Fund Channel's clients to benefit from a fully-fledged fund execution service offering. CACEIS clients, on the other hand, benefit from the wide array of fund distribution-related services of a leading platform that is well-recognised by the market. In addition, the two partners continue to expand their fruitful long-term cooperation in other growth areas such as fund services and data management.
How does Fund Channel differentiate itself from its competitors?
In May 2022, Platforum(1) ranked Fund Channel as 'Best B2B European distribution platform' and ranking highest for 'Best value for money', 'Most efficient processes' as well as 'Best compliance support' in a survey conducted with asset managers.
Today, through the CACEIS partnership, Fund Channel has a 360-degree offer positioning us as a stronger player among the fund distribution platforms in the market. By combining distribution and execution, our one-stop-shop solution covers the entire value chain, placing Fund Channel in a better position to service clients more effectively and confirming its lead position in the fund distribution business.
Innovative digital solutions, data management, client focus and flexibility, and competitive pricing are the main pillars of our offering. We are able to provide tailor-made solutions for our clients.
With Amundi as our majority shareholder, Fund Channel leverages the group's scale and other related capabilities in open-architecture solutions, to satisfy constantly changing regulatory requirements and market needs.
(1 ) Platforum, the UK-based independent research consultancy, releases an annual report on European fund distribution across Continental Europe and the UK. Rated best institutional platform (Europe) in 2021 according to Platforum May 2022 survey, based on feedback from 128 asset managers across 6 different criteria.