Last July, CACEIS unveiled its 3-year Medium-Term Plan, which is fully in line with the Ambitions 2025 plan of our majority shareholder, Crédit Agricole.
In a rapidly changing asset servicing sector, CACEIS aims to consolidate its position as leading fund administrator and No.2 custodian in Europe. To underpin our development for the benefit of our clients wherever they operate, the Group is leveraging rapid technological and digital transformation together with a major programme of investment. CACEIS' strategy is based on three pillars: organic growth, operational efficiency, and external growth.
Therefore, in addition to progress in our core business activities, our ambition is to strengthen our presence and our service offering in other key areas.
This is especially the case with regard to ETFs. This fast-growing sector is a major focus point for CACEIS' development strategy. Our market-recognised expertise and a strong technology offer leveraging the TEEPI ETF platform means we have everything in place to become a key partner for market participants.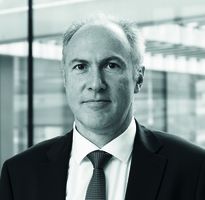 CACEIS also aims to strengthen its fund distribution support offer in order to meet the needs of clients and establish a comprehensive offer across the entire value chain, providing support for their business development plans, particularly on an international level. A major step was taken recently with CACEIS taking a 33% stake in Fund Channel, the fourth-ranking European B2B fund platform, while Amundi remains the majority shareholder. With this partnership, our clients will benefit from the wide range of services offered by Fund Channel, and access to more than 600 asset managers and 100 distributors in Europe and Asia. In this edition, Pierre-Adrien Domon, CEO of Fund Channel, explains all the benefits of this agreement for our respective clients.
Raising the pace of process digitisation to enable enhanced connectivity for our clients is also an important pillar of our strategic growth plan. This is why our Connect Store, accessible via OLIS, extends our platform with new services by bringing together the best digital solutions available on the market, thanks to partnerships with companies specifically selected by CACEIS for their expertise.
SIBOS, the annual global meeting of banking and financial service providers, is meeting face-to-face again from 10th - 13th October in Amsterdam. The delegation from CACEIS will be on hand to welcome you at our stand B66 and discuss the challenges our industry faces. In this edition of the CACEIS News, we are also running a feature which details the framework within which our Network Management activity is carried out, including the absolute priority to ensure the security of clients' assets held under custody throughout our network.
Through these initiatives and our ongoing commitment to excellence, CACEIS clearly demonstrates its desire and ability to adapt its offer to clients' needs, and bring in new value-added services across the entire value chain.