With the Covid-19 pandemic, we are experiencing an unprecedented situation that affects all economic and financial activities worldwide. The effects and duration of this crisis are still difficult to anticipate but undeniably, we have entered a new era that will profoundly change our individual and collective lifestyles.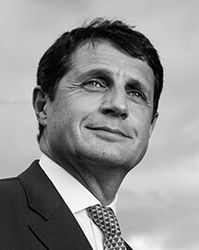 Following the lockdown measures taken by the various governments, CACEIS set up, from the very first days, an exceptional system designed to protect all its employees and ensure business continuity for the benefit of its clients. All technical and human resources have been deployed to enable as many of our employees as possible to work remotely. Nearly 97% of them have carried out their teleworking assignments and will remain away from the office for a few more weeks, for their health and safety and to comply with government regulations.
We were well equipped to face up to this exceptional situation thanks to the robustness of our business model and organisation. We have total control over our activities, mainly located in Europe, because we have always chosen not to outsource our IT structures. Our teams can thus ensure operational processing with speed and efficiency, and this has played a fundamental role in our responsiveness.
CACEIS has held its course perfectly and has maintained its business at a high level and with great efficiency. We have remained present with our clients, supporting them in this unprecedented context and adapting our processes to facilitate their operations. New functionalities have thus been developed as a priority for our TEEPI platform for remote investors. We also continued to innovate with the creation of a joint "front-to-back" offering with Amundi for management companies and institutional investors.
Despite the lockdown, large-scale migrations were carried out, remotely and perfectly successful, proof of the solidity of the CACEIS model. These operations were carried out under exceptional conditions with 100% of the staff working remotely.
Our clients can have complete confidence in CACEIS. All of our teams are fully committed to getting through this difficult period and I would like to take this opportunity to thank them. Our group is solid, we have the support of strong shareholders, Crédit Agricole and Santander Bank, who have all the financial strength to deal with this situation.
We will always be there to act every day in the interests of our clients and society.
Jean-François Abadie