On 17 April 2019, our shareholder Crédit Agricole S.A. jointly issued with Santander a press release informing the market of the project of merger between CACEIS and Santander Securities Services ("S3"), the subsidiary specialised in asset servicing of this major international banking group of Spanish origin.

The new entity, which will keep the name CACEIS, would be 69.5% owned by Crédit Agricole S.A. and 30.5% by Santander. It would combine the activities of CACEIS and Santander Securities Services in Spain and Latin America (Brazil, Mexico and Colombia). This transaction is in addition to that of CACEIS and KAS BANK, a long-standing player in securities custody and fund administration in the Netherlands.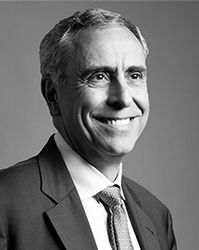 Last February, we announced an agreement on a recommended cash takeover bid submitted by CACEIS for the entire share capital of KAS BANK. Both operations are expected to be finalised by the end of 2019. Their completion is obviously subject to the usual conditions, including regulatory approvals and consultation with the relevant works councils. CACEIS would be strengthened in its role as a key global player in the custody and asset servicing markets.

With these announcements, we confirm CACEIS' targeted growth strategy to expand our coverage of the European, Asian and Latin American markets, and to enhance our product offering to serve current and future clients.

CACEIS is simultaneously continuing to roll out its commercial offer in Europe. We are winning new clients in all locations, for example in Germany, a market with great growth opportunities in fund administration and in cash equity clearing solutions, for which CACEIS in Germany has developed a centre of excellence. Our product offer is rapidly expanding. For example, we provide a solution that contributes to the protection of investors' assets, the "Securities Class Actions" service. It consists of systematically informing our clients about group actions concerning securities held in their portfolio, and investigating the recovery of compensation paid out as part of the dispute settlement. This offer, which we have developed in partnership with a major international law firm, covers all asset classes in the main financial markets.

In this issue, you will discover our full range of execution and clearing services on agricultural commodities. This offer fully meets the expectations of the agricultural and agri-food sector and is now expanding internationally, with the support of our shareholder, the Crédit Agricole Group.

The digital innovation and transformation approach remains a priority for CACEIS in 2019. We are proud to have been recognised once again by the market, as CACEIS won the Innovation Award for the third consecutive year, at the 30th Global Custodian Leaders in Custody Awards on March 28 in London. We are awarded the "Innovation in Client Experience" prize for our approach to improving the user experience with the CACEIS Innovation Lab.

Our capacity for innovation was recently illustrated with the deployment of a new application, SHERPA, which simplifies and secures access to our OLIS portal. The digital transformation of CACEIS will continue across all OLIS functionalities so that our web portal becomes a collaborative work site between clients and CACEIS' teams.

To better understand digital market expectations, we partnered with Funds Europe at the end of 2018 to gather our clients' opinions on the impact of artificial intelligence in the investment fund sector. The results, available on www.caceis.com, confirm that AI is now considered an essential tool in our industry, both at the front, middle and back office levels. These results confirm CACEIS' strategy, which integrates this technology into its developments thanks to the expertise of its 3D business line.

The human element is central to our business and will remain so, but the assistance capabilities that artificial intelligence and other technologies, such as Robotics and Blockchain, will give our staff, and therefore our clients, are a significant advantage in an increasingly competitive industry.

CACEIS is at the forefront of technological developments to ensure we can deliver the robust security, data insights, information accuracy and business efficiency that our clients require now and in the future.