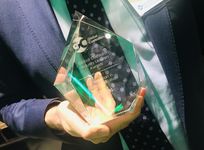 CACEIS received the Innovation Award for TEEPI (Tailored Electronic Exchange Platform for Investors) at Global Custodian's 2018 Leaders in Custody Awards ceremony held on 15th March in London.
The collaborative TEEPI platform – a financial tool created for institutional investors, asset management companies, distributors and fund platforms – links up international players, whether or not they are CACEIS clients. Originally designed by CACEIS to facilitate the exchange of files required by insurers when preparing Solvency II reports, TEEPI has been extended to all regulatory requirements by enabling the immediate and secure transmission of PRIIPs and MiFID II data.
Based on a social network model, the platform uses an invitation acceptance system that allows asset management companies to retain control over the distribution of regulatory data. Accepting the general terms and conditions of the platform also exempts participants from having to sign bilateral confidentiality agreements.
According to Arnaud Misset, Global Head of 3D Business line (Digital, Data & Dissemination), "CACEIS is committed to finding innovative solutions to meet its clients' ever-changing needs. We won the Innovation Award in 2017 for our mobile application, Olis Mobile Funds, and we are very proud to have received this accolade for the second year running thanks to TEEPI. This ecosystem, which makes life easier for financial operators, will continue to evolve in 2018, particularly with the addition of enhanced viewing and control functions."