CACEIS has launched Connect Store, a key element in our digital transformation strategy that is designed to bring a multitude of benefits for clients. Accessible via the client portal Olis, the Connect Store is a marketplace that will bring together a range of front-running digital solutions via partnerships with a broad selection of best-of-breed companies.
CACEIS is fully committed to enhancing and streamlining the client experience and is leveraging recent advances in technology together with the latest specialist digital services.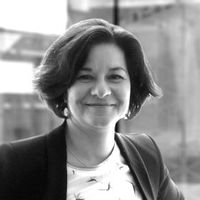 CACEIS initiated its ambitious digital transformation plan several years ago, and the Group is keen to take advantage of any opportunities that disruptive technologies and digital solutions offer in order to further improve the client experience.
"Given the diverse scope of our businesses and the broad range of digital transformation possibilities, we must make considered decisions as to where we focus our development efforts. We have identified and prioritised several key areas to which we will direct resources, and are also keen to take advantage of the benefits of working with third-party suppliers for very specific tasks. This is why we developed the CACEIS Connect Store. Via Olis, clients can sign up to specialist services provided by third-party Fintechs, all of which have undergone a strict due diligence process," explains Sabine Iacono, Group Digital Transformation Manager at CACEIS.
The 'trusted third-party services' business model benefits all parties. Clients can easily sign up for the specialised 'plug and play' features via Olis, and are then automatically signed in to their services thanks to the 'single sign-in' feature. The Connect Store offers preferential rates on all the services, and CACEIS handles the linking of data feeds.
For the Fintechs and other specialised partners, they gain distribution opportunities as well as visibility among our clientele by making their services available on CACEIS Connect Store. A simple online set-up process with some assistance from CACEIS on-boards their solution and ensures they function correctly. This covers integrating online solutions into OLIS, setting up client data flows, arranging data retrieval via Olis, and defining rights management.
Just like other services that are available through Olis, the Connect Store is easy to use, open to all clients, and presents partners' solutions simply and clearly on the store's homepage. Information on functionalities, pricing, and T&Cs are displayed for each of them.
The first Fintechs are already available on the CACEIS Connect Store: Clarity AI, the leading technology platform for sustainability, offers CACEIS clients a full range of services in ESG risk management, impact and climate, and regulatory compliance. It fully meets the new requirements for ESG and climate risk management.
Sismo offers a "quantamental" analysis and investment decision support solution for portfolio optimisation and strategy development.
FundGlobam is a unique integrated outsourcing offering in support of fund distribution, with global coverage in over 80 markets, in full compliance with all local regulatory requirements.
Finally, in February, Osmoze services of Heavenize will be offered. They provide portfolio managers with steering tools to increase the accuracy and relevance of their decisions and improve their operational effectiveness.
"CACEIS aims to add 5 new Fintechs to the Connect Store each year, an objective that is part of the Group's Medium Term Plan 2025, which was presented in July this year", concludes Sabine Iacono.