The beginning of a year is a time to reflect on the preceding 12 months, and we can already confirm that 2020 is one for the history books.
We have experienced, and indeed are still experiencing, an unprecedented situation that is impacting economic and financial activities the world over. Even at this stage, the effects and duration of the Covid-19 crisis remain difficult to forecast, however, there is no doubt that we have entered a new era that has profoundly changed our individual and collective lifestyles.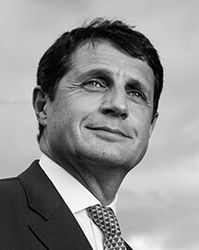 CACEIS has successfully handled these challenges. Our Group has remained on track by leveraging organisational flexibility and investing heavily into IT tools that enable our 4,500 employees to operate effectively while teleworking. We have been able to ensure the continuity of our services and contact with our clients whilst dealing with unprecedented volumes of operations.
Like many of our clients, we have learnt important lessons about how best to operate. Beyond the development of teleworking, we are adapting our operational model to better meet our clients' needs.
During 2020, CACEIS moved ever closer to the "One CACEIS" ideal with the support of our two shareholders: Crédit Agricole and Santander Bank. We completed the integration of KAS Bank, which became CACEIS' Dutch branch on 1st November, making it our centre of excellence for pension fund services. We also began the merger of Santander Securities Services' activities, under lockdown conditions, which added an extra layer of complexity.
Throughout the year, entities across the 15 countries in which we are now present were actively supporting clients. In this edition of CACEIS News, our staff in Italy and Ireland explain how they met the additional challenges of servicing clients during the period.
We were delighted to bring on board major new clients and carried out significant asset migrations. As Grouep Groupama and Candriam explain inside, these operations were a resounding success thanks to hard work and persistence of the teams involved. I would like to thank our clients for the trust they have placed in us.
In 2020, CACEIS continued to innovate and expand its service offering. The pandemic has undoubtedly accelerated the progress of digitisation efforts to better service clients. TEEPI Market Place, our collaborative web platform, and OLIS, our Internet portal, launched major new features. And we have developed a Front-to-Back offer in partnership with Amundi, ALTO* x CACEIS, which covers the entire value chain, from portfolio management to custody.
Finally, I would like to highlight a key figure for our group: CACEIS has now passed the €4 trillion milestone for assets under custody, thereby consolidating its position as Europe's second biggest player.
For 2021, I will not attempt forecasts, but the year will be driven by the expected return to normal and ongoing fears about the economic after-effects of this extraordinary set of events.
Nevertheless, despite the current uncertainty, I would like to reassure our clients that they have a solid and innovative partner at their side. CACEIS is part of a well-established business sector. We have full control over our activities, most of which are located in Europe. Our teams can therefore ensure operational processes are carried out with speed and efficiency, which has been fundamental to our responsiveness throughout the past year, particularly during lockdown periods. We are constantly seeking to improve our operational efficiency in order to achieve greater client satisfaction and to remain competitive in such a demanding market. Finally, we benefit from the support of shareholders whose balance sheets are among the strongest of European banks and who occupy leading positions in the international marketplace.
I wish you the best of health for 2021 and let's hope the next 12 months deliver a more positive outcome.

Jean-François Abadie
---
* ALTO: Amundi Leading Technology & Operations