Each year, CACEIS invites employees to enjoy one of its Moov Days, a day-long forum all about internal mobility. It focuses on ways to break out of routine, take on a new role or even arrange a move abroad.
Pieter-Jan Fissette is in a series of personal stories. He is Business Development Manager in Zurich.
Pieter-Jan joined CACEIS in Luxembourg in 2007 as a Pricing Analyst. Between 2009 and 2012, he was a Middle-Office Manager in Hong Kong, before becoming Relationship Manager in Luxembourg and then in Nyon, Switzerland. Since December 2016, he has worked as a Business Development Manager in Zurich.
You've known 4 different workplaces in 10 years - would you say working internationally is a deliberate choice?

I grew up in an international environment and I've only ever contemplated my career in a global context. CACEIS in Luxembourg was my first choice. I was then the second person to join the Hong Kong entity at its inception in 2009.
I quickly became manager of 15 people. My experience in Hong Kong has been really useful to me.
I was able to manage people there as part of a multicultural melting pot. I developed my skills in a variety of areas relating to the creation of a subsidiary: IT, operations, HR, business development, legal, risk management, compliance, etc.
I also took care of the interim management of the entity. We were located in the same building as other Crédit Agricole group companies (Amundi, CACIB), which allowed me to gain a thorough understanding of our group and form relationships which are still useful today. I also developed my negotiation skills with international clients.
Why come back to Europe?
I wanted to broaden the scope of my knowledge by finding out more about CACEIS banking.
I've worked with real experts who have enabled me to progress and made me want to participate in the creation of the banking business in Nyon in Switzerland in 2015.
I've been responsible for the integration of the first clients. Since I've been in Zurich, I've found a spirit of collaboration in the Crédit Agricole group.

As in Hong Kong, we have formed a football team and we go head to head with the city's financial community. It's a very good method of integration, and I can combine pleasure with networking.
What would you consider to be the strengths that have helped you in developing your career?

I am very flexible and am always open to new experiences and to learning new languages.
I make contacts easily, I know how to surround myself with the best specialists, and I seek to work well and collaboratively with colleagues. Cohesion and team spirit help us to move things forward.
My knowledge of the Crédit Agricole group is also a real plus.
And after Zurich?

I want to focus on the Zurich financial centre at the moment because the potential for development there is very significant.
I've learned a lot in the last 10 years with CACEIS, and I've benefited from the trust and support of my colleagues and of management.
I'm now pleased to be able to use my experience to serve the commercial development of the Group and act as a business partner to its clients.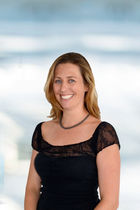 "Knowing how to enhance skills and take advantage of professional experience is useful for developing within the CACEIS group. It is important to seize an opportunity when it presents itself. In Switzerland we recruit internationally and curiosity is necessary for integration into local life."
Pauline Jamot, head of Human Resources for CACEIS in Switzerland