For almost 10 years, CACEIS has enhanced its business development from its Hong Kong office, a key cross-border fund centre in Asia. The Hong Kong office assists group clients worldwide in distributing their funds regionally and internationally, as well as bringing a broad asset servicing offer to players operating in the market.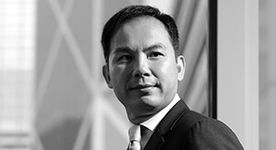 "CACEIS in Hong Kong provides comprehensive fund distribution support and related services to clients active in Asia. By leveraging the group's considerable experience in the European depositary/trustee space, we ensure our clients are well positioned to make the most of the business development opportunities offered by the European and Asian Markets," explains David Li, Managing Director of CACEIS in Hong Kong. The entity has become a full-fledged servicing hub by providing a comprehensive range of high quality services.
FUND DISTRIBUTION SERVICES
CACEIS in Hong Kong assists European clients in achieving their business development objectives in Asia and supports local management companies whether they are seeking to expand nationally or internationally, offering local client relationship management. CACEIS acts as crossborder transfer agent on behalf of major European asset management companies and as local TA for HK funds.
CACEIS's full service offer in Hong Kong includes fund distribution support, which enables pan-Asian distributors to connect to Western and offshore target Transfer Agents. "This gives distributors a single point of access to a broader range of funds and related services, such as account opening and maintenance, order capture and online reporting solutions," adds David Li.
CACEIS Hong Kong's pan-Asian distribution hub currently serves more than 80 funds domiciled and distributed in 8 markets: China, Hong Kong, Korea, Japan, Malaysia, Singapore, Taiwan and Thailand. Clients benefit from a local call centre managing queries related to fund information, transactions, holdings, payments, and reporting between distributors and investors. "We are expanding our distribution solutions offer in Asian markets by automating links with the TDCC Taiwan Depositary and Clearing Corporation platform," adds David Li.
CACEIS teams are multilingual and multicultural. They use the Group's information systems and the support of its qualified international teams, available 24/7. This organisation facilitates the management of procedures for in-depth customer knowledge (KYC) and anti-money laundering (AML). This set-up represents a major advantage for investors and distributors, who can overcome difficulties linked to time zones as well as cultural and linguistic barriers.
"Our teams assist our regional clients, regional fund houses, in reaching international markets and launching offshore products such as UCITS or AIFMD funds. Most of them choose to domicile their funds in Luxembourg, which ranks second only to the US in terms of capital raising for infrastructure funds," says David Li. Over 45% of the flows from China to Europe are already structured using Luxembourg entities, and Chinese financial players, including most large Chinese banks, are driving part of this.
"We are also seeing strong interest from our clients in private equity and real estate funds. We have recently concluded several interesting projects with major Chinese firms that confirm this interest over the long term," adds David Li.
REPRESENTATIVE AGENT AND FUND ADMINISTRATION SERVICES
Through its trustee license obtained in January 2017 from the Hong Kong Securities & Futures Commission, CACEIS in Hong Kong delivers fund administration and transfer agency services to regional fund houses. As a trustee for Hong Kong domiciled funds, CACEIS assists in obtaining authorisation from the Securities & Futures Commission. Hong Kong domiciled funds allow asset managers to access the Chinese onshore retail market as part of the Mutual Recognition of Funds (MRF) programme. The MRF programme enables asset managers of Hong Kong and Chinese-domiciled funds to distribute their products in both jurisdictions.
Since its inception, CACEIS in Hong Kong provides administrative support for distribution to clients operating in Asia, and acts as the Asian hub for the preparation of European funds' NAVs.
CACEIS in Hong Kong can also fulfil the role of representative agent for Hong Kong-based distribution of international funds which encompasses the following duties: mandatory notifications, ongoing communication, monitoring of local regulations, filing of required statistics and ad-hoc reports, publication of NAVs (Net Asset Value) in the local media, as well as the dissemination of fund documentation to local investors.
MASTER DATA SERVICES
CACEIS in Hong Kong acts as one of the pillars of the Data Management services provided by the Group. Its business experts administer and monitor data. The offer covers all data types: data characteristics, corporate actions, fund data and third-party data.
MORE ADDED VALUED SERVICES
In addition to local custody support across the Asian time zones, CACEIS provides local clients clearing services covering listed and OTC derivatives markets through its Market Solutions offering. This wide-ranging multi-asset solution is fully-integrated into the CACEIS Prime Custody package, one of the key elements of the Execution-to-Custody model. This model emphasizes the rationalisation of post-trade services by offering more simplicity optimisation and efficiency, as well as greater economies of scale for clients.
"We produce a range of innovative securities lending solutions that enable investors to increase the return on their portfolios or minimize costs within a secure framework thanks to a collateral coverage. These simple and fully customisable turnkey solutions are aimed at all types of investors and benefit from CACEIS's expertise as an Asset Servicer: excellent knowledge of the main underlying assets (equities and bonds) and risks, regulatory requirements, market practices and rigorous and automated operational management, notably through daily collateral evaluation and margin call management," says David Li.
GLOBAL DELIVERY MODEL
Finally, CACEIS in Hong Kong acts as the Asian hub for the entire CACEIS group, in the framework of its Global Delivery operating model which ensures round the clock servicing. In this context, CACEIS in Hong Kong collects securities prices, carries out preliminary controls and NAV calculations to ensure early NAV production for European funds.
"At a time when Hong Kong is consolidating its position as a key regional centre for cross-border fund distribution, management companies can rely on CACEIS's extensive expertise acquired in Europe supporting fund distribution and providing asset servicing, to develop their activity in Asia," concludes David Li.