CACEIS News
Todas las ediciones de la categoría CACEIS News
RegWatch
December 2021
CACEIS Regulatory Watch Newsletter
ANTI-MONEY LAUNDERING / COMBATING THE FINANCING OF TERRORISM (AML / CFT)
CENTRAL SECURITIES DEPOSITARY REGULATION (CSDR)
CYBERSECURITY
DIRECTIVE ON THE PROTECTION OF PERSONS WHO REPORT BREACHES OF UNION LAW (WHISTLEBLOWERS DIRECTIVE)
FINANCIAL MARKET INFRASTRUCTURE (FMI)
INVESTMENT FUNDS / COLLECTIVE INVESTMENT SCHEMES (CIS) / ASSET MANAGEMENT
PACKAGED RETAIL AND INSURANCE-BASED INVESTMENT PRODUCTS (PRIIPS)
PRUDENTIAL REQUIREMENTS FOR INVESTMENT FIRMS DIRECTIVE & REGULATION (IFD / IFR)
REGULATION ON A PILOT REGIME FOR MARKET INFRASTRUCTURE BASED ON DISTRIBUTED LEDGER TECHNOLOGY (DLT REGULATION)
SECURITIES FINANCING TRANSACTIONS REGULATION (SFTR)
SHAREHOLDERS' RIGHTS DIRECTIVE (SRD II)
SUSTAINABLE FINANCE / GREEN FINANCE
UNFAIR COMMERCIAL PRACTICES DIRECTIVE (UPCD)
ANTI-MONEY LAUNDERING / COMBATING THE FINANCING OF TERRORISM (AML / CFT)
CENTRAL SECURITIES DEPOSITARY REGULATION (CSDR)
FINANCIAL REPORTING
FINANCIAL SUPERVISION
GOVERNANCE
INVESTMENT FUNDS / COLLECTIVE INVESTMENT SCHEMES (CIS) / ASSET MANAGEMENT
MARKETS IN FINANCIAL INSTRUMENTS DIRECTIVE AND REGULATION (MIFID II / MIFIR)
SHAREHOLDERS' RIGHTS DIRECTIVE (SRD II)
SUSTAINABLE FINANCE / GREEN FINANCE
CENTRAL SECURITIES DEPOSITARY REGULATION (CSDR)
DIRECTIVE ON COVERED BONDS
EUROPEAN SINGLE ELECTRONIC FORMAT (ESEF)
GOVERNANCE
INFORMATION TECHNOLOGY (IT) / INFORMATION AND COMMUNICATIONS TECHNOLOGY (ICT)
INVESTMENT FUNDS / COLLECTIVE INVESTMENT SCHEMES (CIS) / ASSET MANAGEMENT
PRUDENTIAL REQUIREMENTS FOR INVESTMENT FIRMS DIRECTIVE & REGULATION (IFD / IFR)
FINANCIAL REPORTING
FINANCIAL SUPERVISION
INVESTMENT FUNDS / COLLECTIVE INVESTMENT SCHEMES (CIS) / ASSET MANAGEMENT
OVER-THE-COUNTER DERIVATIVES (OTC)
GOVERNANCE
INVESTMENT FUNDS / COLLECTIVE INVESTMENT SCHEMES (CIS) / ASSET MANAGEMENT
MARKETS IN FINANCIAL INSTRUMENTS DIRECTIVE AND REGULATION (MIFID II / MIFIR)
OUTSOURCING
SUSTAINABLE FINANCE / GREEN FINANCE
GOVERNANCE
INVESTMENT FUNDS / COLLECTIVE INVESTMENT SCHEMES (CIS) / ASSET MANAGEMENT
PROSPECTUS REGULATION
PRUDENTIAL SUPERVISION / SINGLE SUPERVISORY MECHANISM (SSM) / SINGLE RESOLUTION MECHANISM (SRM) / SINGLE RESOLUTION FUND (SRF)
TRADING RULES
ANTI-MONEY LAUNDERING / COMBATING THE FINANCING OF TERRORISM (AML / CFT)
COVID-19 REGULATORY MEASURES
CRYPTOASSET / CRYPTOCURRENCY / VITUAL CURRENCY
CYBERSECURITY
DIRECTIVE ON COVERED BONDS
FINANCIAL SUPERVISION
INVESTMENT FUNDS / COLLECTIVE INVESTMENT SCHEMES (CIS) / ASSET MANAGEMENT
SUSTAINABLE FINANCE / GREEN FINANCE
SWITZERLAND
FINANCIAL SUPERVISION
INVESTMENT FUNDS / COLLECTIVE INVESTMENT SCHEMES (CIS) / ASSET MANAGEMENT
CONSUMER PROTECTION
CUSTOMER PROTECTION
MARKETS IN FINANCIAL INSTRUMENTS DIRECTIVE AND REGULATION (MIFID II / MIFIR)
PENSION SCHEMES
PRUDENTIAL REQUIREMENTS FOR INVESTMENT FIRMS DIRECTIVE & REGULATION (IFD / IFR)
SUSTAINABLE FINANCE / GREEN FINANCE
CYBERSECURITY
DERIVATIVE FINANCIAL INSTRUMENTS (DERIVATIVES)
FINANCIAL SUPERVISION
INVESTMENT FIRMS PRUDENTIAL REGIME (IFPR)
LISTING / TRADING RULES
MARKETS IN FINANCIAL INSTRUMENTS DIRECTIVE AND REGULATION (MIFID II / MIFIR)
SECURITISATION REGULATION
SENIOR MANAGERS & CERTIFICATION REGIME (SM&CR)
SUSTAINABLE FINANCE / GREEN FINANCE
CLEARING OBLIGATIONS
DISCLOSURE
ANTI-MONEY LAUNDERING / COMBATING THE FINANCING OF TERRORISM (AML / CFT)
BRAZIL
FINANCIAL SUPERVISION
FINANCIAL REPORTING
INVESTMENT FUNDS / COLLECTIVE INVESTMENT SCHEMES (CIS) / ASSET MANAGEMENT
SUSTAINABLE FINANCE / GREEN FINANCE
BENCHMARKS REGULATION (BMR)
Todas las ediciones de la categoría REGWATCH
Corporate
Brochure Corporate 2021
Socio Global de Asset Servicing
CACEIS es un grupo bancario internacional que ofrece todo tipo de servicios de post-contratación en todas las clases de activos. Dotado de una sólida infraestructura informática, CACEIS ofrece soluciones de ejecución, compensación, custodia, banco depositario, administración de fondos y servicios a los emisores para clientes institucionales, sociedades gestoras, fondos de pensiones, fondos de capital riesgo, bancos, agencias de valores y clientes corporativos.
Todas las ediciones de la categoría CORPORATE
Reference Papers
Todas las ediciones de la categoría Reference Papers
CACEIS Emetteurs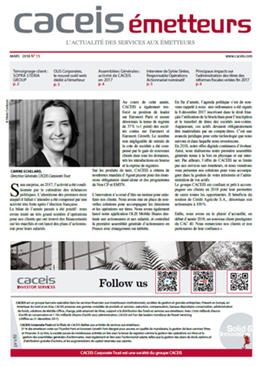 CACEIS Emetteurs N°15 — Mars 2018
L'actualité des services aux émetteurs
Témoignage client : Sopra Steria Group
OLIS Corporates, le nouvel outil web dédié à l'émetteur
Assemblées Générales : activité de CACEIS en 2017
Interview de Sylvie Sintes, Responsable Opérations Actionnariat Nominatif
Augmentations de capital réservées : enrichissement de l'offre CACEIS
Principaux impacts sur l'administration des titres des réformes fiscales votées fin 2017
Todas las ediciones de la categoría CACEIS émetteurs
Decryptage
N°114 - Juin 2019
L'actualité juridique et réglementaire
ACTUALITÉS LÉGISLATIVES ET RÉGLEMENTAIRES
TEXTES LÉGISLATIFS ET RÉGLEMENTAIRES NATIONAUX
TEXTES LÉGISLATIFS ET RÉGLEMENTAIRES EUROPÉENS

COMMUNICATION AMF
INSTRUCTION
DÉCISION
POSITION
ÉTUDE
GUIDE

AUTRES COMMUNICATIONS FRANÇAISES
ACPR (AUTORITÉ DE CONTRÔLE PRUDENTIEL)
AFTI
CNIL
TRACFIN

ACTUALITÉS EUROPÉENNES
CONSEIL DE L'UE
COMMISSION EUROPÉENNE
EBA (EUROPEAN BANKING AUTHORITY)
ESMA (EUROPEAN SECURITIES AND MARKETS AUTHORITY)
Todas las ediciones de la categoría Decryptage
EDHEC-Risk Institute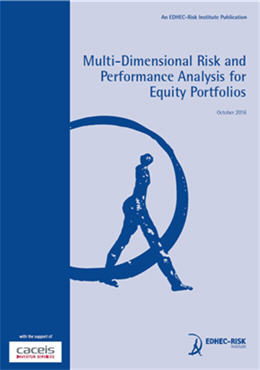 Multi-Dimensional Risk and Performance Analysis for Equity Portfolios
An EDHEC-Risk Institute Publication
In this study, EDHEC-Risk Institute explores a novel approach to address the challenge raised by the standard investment practice of treating attributes as factors, with respect to how to perform a consistent risk and performance analysis for equity portfolios across multiple dimensions that incorporate micro attributes.