CACEIS is currently working on two major international development projects that I am personally involved in. I believe both will serve to further strengthen our position as a key player in the asset servicing market.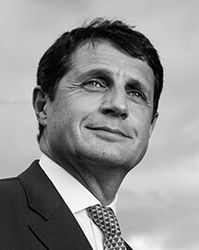 The first is our project to acquire all the securities in KAS BANK. The recommended public offer for this specialist provider of custody and fund administration, with a long heritage in the Netherlands, was presented by CACEIS at the end of July. The transaction is expected to be completed soon.

Together we have worked hard to ensure CACEIS is ready to bring on board KAS BANK's 450 staff, locat-ed principally in the Netherlands, and also in Germany and the UK. I welcome Sikko van Katwijk, Chairman of the Managing Board of KAS BANK, in this edition of CACEIS News.

The Netherlands is a market where many institutional investors operate, including large pension fund players. The acquisition of KAS BANK is expected to significantly raise CACEIS' profile in the pension fund servicing marketplace. CACEIS and KAS BANK's geographical positioning is complementary: KAS BANK's activities in Germany will enhance those we already offer in this region, and in the United Kingdom, we will together increase our market share.

Changing European demographics and pressure on state finances make the pension systems a key challenge for the future. Further private sector involvement is clearly part of the solution. Over the past five years, European pension fund assets have grown by over 30%, reaching some €7.2tn. Many pension fund managers are turning to CACEIS, seeking servicing solutions for the back- and middle- office , as well as regulatory matters that enable them to better focus on their core business and generate additional value.

The combination with KAS BANK brings its extensive pensions expertise and provides an opportunity for our clients to benefit from their experts, who have an in-depth understanding of the needs of pension funds. Once the offer is completed, Amsterdam will play a key role in CACEIS' international growth strategy, becoming the group's centre of excellence for European pension funds.

KAS BANK clients also have much to benefit from the transaction, gain-ing access to the comprehensive range of products and services our group offers. They will benefit from the long-term commitment of a growing international group that is both innovative and financially sound. At every stage of the process, client retention and satisfaction will remain our top priority. We are leveraging our long-held migration expertise to ensure we achieve a seamless transition with client service continuity.

In addition to this notable project with KAS BANK, we are making excellent progress with our far-reaching combination with Santander Securities Services, Santander's asset servicing subsidiary. CACEIS will combine activities with Santander Securities Services' operations in Spain and Latin America (Brazil, Mexico and Colombia).

This operation is expected to be completed by the end of the year and Santander will become a minority shareholder in CACEIS, alongside Crédit Agricole S.A.

These two major development projects demonstrate CACEIS' commitment to pursuing a stable growth strategy, aimed to extend our geographic footprint and enhance the range of servicing solutions we offer our clients worldwide.

While working on these international development projects, we have also secured many sizable business wins which validates our commercial strategy, the quality of our relationship management and the flexibility of operations to successfully on board new clients.

ING Solutions Investment Management (ISIM)'s client testimonial in this edition of CACEIS News highlights our ability to listen and adapt to the needs of our clients.

We constantly aim to develop business relationships into close working partnerships and the contributions we receive from our clients help us to measure that our relationship management efforts are developing in a positive direction.