As a result of combination in late 2019 with Santander Securities Services (S3), CACEIS's geographic footprint has now extended to cover a well-established business network in Spain and in several key markets in Latin America.
With S3, CACEIS ranks as the premier custodian bank in Spain and is a leading player in the most relevant Latin American markets. With a long experience of providing high quality services to demanding clients, S3 has gained an excellent market reputation which CACEIS is already starting to build on.
A brief history of Santander Securities Services
Santander has offered settlement and custody services to institutional clients since 1986. In the 1990s, the group began wholesale business operations in Mexico, including custody & settlement services, and consolidated its service network in Latin America. In the early 2000s, Santander introduced fund administration services for local clients in Brazil and began to offer ancillary services and access to international fund platforms for custody clients as part of its offer. In 2014, Santander Securities Services (S3) was created as a legal entity in Spain and Brazil to provide a full range of post-trading services (depositary, custody and settlement and treasury services) to institutional clients. The primary objective of creating this entity was to develop an integrated management solution that allows keeping our market leadership on those market where we were present. At the same time, Santander Fund Administration (SFA) was established to provide fund administration services. In 2017, an S3 affiliate was set up in Colombia and, in in 2018, Banco S3 México was launched to provide custody and settlement services for clients operating in Mexico. At the end of 2019 S3 was directly operating in Spain, Brazil, Mexico and Colombia. Although not part of the transaction, other key markets like Argentina and Chile will continue to be covered in cooperation with Banco Santander.
The merger with CACEIS followed this major international development period at S3.
Strategic business development
With established entities in Spain, Brazil, Colombia and Mexico, CACEIS clients have direct access to a full array of services: settlement, custody, cross-border fund order capture and execution, and fund depositary. Third party fund administration in Spain is provided via Santander Fund Administration -soon to be renamed as CACEIS Fund Administration Spain- which administers regulated and non-regulated collective investment schemes, including UCITS, AIFs and pension funds.
"Our expansion strategy is always to roll out the group's full service range to all markets so our clients in every market benefit from the same high level of service & support" says Carlos Rodríguez de Robles, CACEIS Deputy CEO and Country Managing Director, Spain and LatAm. "Local teams in Spain and across Latin America have in-depth market experience and expertise in supporting all types of clients from the front office to the back: indeed, we are proud to service global custodians, international investment and private banks, broker dealers, asset managers, insurance companies, pension funds as well as corporates" adds Carlos.
CACEIS staff leverage the wide service range and the benefits of belonging to a leading global asset servicing player in order to meet the needs of a demanding clientele, worldwide, whatever the circumstances. Indeed, CACEIS is proud to have recently successfully delivered, in Spain and in other geographies, major projects supporting development plans and reorganisation strategies of our clients in spite of the current environment.
The 360 women and men from the Spanish and Latin American entities bring to the group their expertise of working with institutional clients, local regulators and other market participants, and earn a reputation for the quality and scope of our services.
A well-established player in local custody services
In Spain and Latin America, local custody is a central part of the offer which includes settlement, clearing and custody services for domestic equities and fixed income securities for both resident and non-resident clients. Within the range of clients, leading international banks - or global custodians - and asset managers are the most relevant.
With a depositary market share over 20% and with €700bn in Assets under Custody at December 31st, 2019, Spain adds another centre of excellence for custody to CACEIS global organisation, with dedicated operational teams and robust IT platforms.
In Latin America, CACEIS, in partnership with Santander, develops strong and well-recognised franchises in fast growing markets for their services.
CACEIS in Spain and LatAm gives direct access to the local financial markets as a participant to the financial market infrastructures.
A question of Governance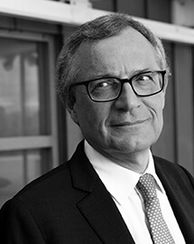 CACEIS' governance structure in Spain and Latin America will ensure a smooth integration process and uninterrupted client services. Carlos Rodríguez de Robles, former Managing Director for S3, has been appointed Deputy CEO of CACEIS and member of CACEIS executive Committee, in charge of strategy, market intelligence and management of the correspondent network, in addition to his role of Country Managing Director for Spain and LatAm. Carlos reports directly to Jean-François Abadie, CACEIS CEO. To assist Rodriguez de Robles in Spain and Latin America, Eric Dérobert, former member of the CACEIS Group's Management Committee in charge of Communications and Public Affairs, has been appointed Deputy Managing Director for CACEIS Spain and Latin America.
"Client relationship teams and local management have been confirmed and they are committed to this new project.We are very pleased that current clients in Spain and Latin America expressed their willingness to confirm their confidence in our new Group" confirms Elena Mesonero, Head of Regional Coverage for Spain and LatAm.
Rebranding
In Spain, the group will operate under CACEIS brand whereas, in Latin America, according to the agreements between Santander, Crédit Agricole and CACEIS, CACEIS will operate under two different brands: Santander CACEIS in Brazil and Colombia, and S3 CACEIS in Mexico.
"Service quality and client satisfaction are our number one priority and, throughout all CACEIS group locations, our sales teams are fully prepared to give the most accurate & comprehensive information on the broad range of services available in a larger CACEIS" concludes Elena Mesonero.