CACEIS is one of Europe's leading asset servicing groups and intends to continue its growth trajectory in a market undergoing major transformation. Our 3-year Medium-Term Plan is fully in line with the Ambitions 2025 plan unveiled on 22nd June by our main shareholder, Crédit Agricole.
Our objective is to boost our position as a benchmark asset servicer by strengthening our organic growth, accelerating our digital transformation and continuing our targeted acquisition and partnership strategy. Our group has allocated the necessary financial means to maintain a significant level of investment and to underpin our ongoing development in order to best service our clients across all our locations.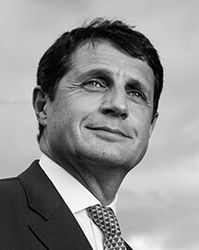 Beyond the growth of our core businesses, our ambition is to expand our service offerings in high-potential market segments such as ETFs, pension funds, private equity and real estate, fund distribution and middle-office outsourcing, and to extend them to new geographic zones.
CACEIS is also seeking to develop a digital assets offering. To this end, we have just signed an agreement with the Swiss company, Taurus, to interface with their platform which connects to various blockchains. CACEIS will be able to leverage Taurus' cutting-edge technology to automate and simplify digital assets processing, and eventually provide digital asset custody and issuance services as well.
Our Medium-Term Plan will enable us to continue to improve our operational efficiency through increased revenue generation and the continuation of our transformation plan, which includes the development of our centres of expertise and the further digitisation of our operational processes.
We are keen to support our clients in their business development projects by ensuring we are responsive and adapting to their ongoing needs. This issue's interview with our client, Waystone, provides a good illustration of the capabilities and qualities of our teams, and I would like to thank them warmly.
At the end of the last quarter, CACEIS has made a major change, bringing together all our staff in France under one roof, and consequently changing our head office. Our 'One Building' project started more than two years ago, and has just been completed. CACEIS in France is now located in a building called 'Flores', on the Evergreen campus of our principal shareholder, Crédit Agricole. This new address in Montrouge is now the head office of all CACEIS entities in France. We look forward to welcoming our clients to our brand new headquarters.
I wish you all an excellent summer.
Jean-François Abadie