ALTO* x CACEIS
FULLY INTEGRATED FRONT-TO-BACK SOLUTION
For Asset Managers and Asset Owners

Market-leading Outsourcing Services by Amundi Technology & CACEIS
By combining technology and services, from Amundi Technology ALTO* platform and CACEIS' Middle to-Back-Office services, this solution offers a single platform including the following capabilities: portfolio management system, dealing, Middle-Office, custodian and fund administration services.
The Front-to-Back solution benefits from a dedicated service organisation combining close client support and industrial shared service centers. This solution ensures a full STP order workflow from Front and Middle-Office tools to avoid data discrepancies and reconciliations, a full data confidentiality based on a strict organisation and «Chinese wall» rules and a service management framework and high standards of service level agreement certified by third parties.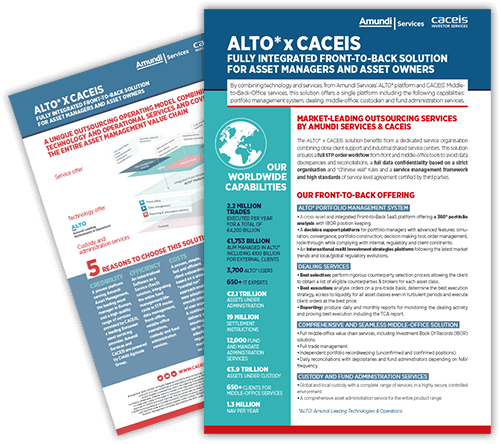 Download the Factsheet
ALTO* x CACEIS - Fully integrated front-to-back solution for Asset Managers and Asset Owners*. A Unique Outsourcing Operating Model combining Technology and Operational Services and Covering the entire Asset Management Value Chain.

Download PDF
ALTO* Portfolio Management System

✔ A cross-asset and integrated Front-to-Back SaaS platform offering a 360° portfolio analysis with IBOR position keeping.

✔ A decision support platform for portfolio managers with advanced features: simulation, convergence, portfolio construction, decision making tool, order management, look-through while complying with internal, regulatory and client constraints.

✔ An international multi investment strategies platform following the latest market trends and local/global regulatory evolutions.
Dealing Services

✔ Best selection: perform rigorous counterparty selection process allowing the client to obtain a list of eligible counterparties & brokers for each asset class.

✔ Best execution: analyse orders on a pre-trade basis, determine the best execution strategy, access to liquidity for all asset classes even in turbulent periods and execute client orders at the best price.

✔ Reporting: produce daily and monthly reports for monitoring the dealing activity and proving best execution including the TCA report.
Comprehensive and Seamless Middle-Office Solution

✔ Full MO value chain services, including Investment Book Of Records (IBOR) solutions.

✔ Full trade management.

✔ Independent portfolio recordkeeping (unconfirmed and confirmed positions).

✔ Daily reconciliations with depositaries and fund administrators depending on NAV frequency.



Custody and Fund Administration Services

✔ Global and local custody with a complete range of services, in a highly secure, controlled environment.

✔ A comprehensive asset administration service for the entire product range.
A Unique Outsourcing Operating Model combining Technology and Operational Services and Covering the entire Asset Management Value Chain
5 reasons to choose this solution
01.

CredibilityA proven platform serving Amundi Asset Management, the leading asset manager in Europe, and a high quality range of services provided by CACEIS, a leading European asset servicing provider. Amundi Technology and CACEIS are powered by Crédit Agricole Group.

02.

Efficiency An industrialised Software as a Service (SaaS) solution, integrating the entire fund management lifecycle in STP mode: data management, Front-Office, Middle-Office operations, custody and fund administration services.

03.

CostsA proven, simple, fast and efficient client onboarding based on a unique "parallel run" approach enabling easy adoption and a smooth integration of user experience. A continuous delivery model ensuring a fully up-to-date platform adapted to new regulations and market trends at no additional cost.

04.

Innovation An access to cutting-edge technology and innovations with the latest digital solutions for programmable Front-Office, smart data management, machine learning, artificial intelligence, portfolio managers user experience…

05.

Security An access to a secure integrated platform for client data, operations segregation, data confidentially, "Chinese-walls" and strong ALTO* user rights access management.
Our Worldwide Capabilities
2.2 Million TradesExecuted per year for a total of €4,200 Billion
€1.753 BillionAUM managed in ALTO including €100 Billion for External Clients
3700ALTO Users
650+IT Experts
€2.1 TrillionAssets under Administration
19 MillionSettlement Instructions
12,000Fund & Mandate Administration Services
650+Clients for Middle-Office Services
€3.9 TrillionAssets under Custody
1.3 MillionNAV per year