CACEIS' 2025 Medium-Term Plan, announced last summer states that "Corporate Social Responsibility (CSR) and ESG principles must be fully integrated throughout the value chain, in all business sectors and at all levels". This policy statement also aligns CACEIS with Crédit Agricole group's target of net zero carbon emissions by 2050.
Sustainable development principles are also taken into consideration for the management of our information systems. This demonstrates that CACEIS' commitment to reducing its carbon footprint even extends to maintaining an environmentally-friendly IT infrastructure.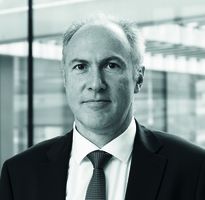 "CACEIS is positioning itself as a market leading partner for socially responsible and environmentaly sustainable servicing and ESG risk management. Our 2025 Medium-Term Plan is fully aligned with the Sustainability goals of our principal shareholder, Crédit Agricole," explains Frédéric Coudreau, Deputy General Manager in charge of Operations and Information Systems.
As an asset servicer, CACEIS makes extensive use of its IT systems not just to deliver its core business services but also to support the digital transformation needed to develop new offers, improve client satisfaction and increase operational efficiency.
In June 2020, a white paper published by the French Senate entitled "Green transition in IT" revealed that computer equipment makes up 81% of worldwide 'digital pollution'. "for this reason, CACEIS implemented a strategy to fold the IT division into its CSR approach and reduce the digital carbon footprint," says Aziza Ben Ghozzia, Group Head of Software Development & Delivery Excellence and Head of Green IT at CACEIS. CACEIS aims to improve the eco-credentials of its IT division by working with Crédit Agricole's 'Sustainable IT Taskforce', which is responsible for reducing the environmental impact of the banking group's information technology.
There are two main issues CACEIS faces: ensure clients and staff have access to the best digital tools and operate the IT division sustainably. CACEIS' Green IT project rests on five strategic pillars:
Strengthening the responsible procurement policy: This consists of establishing a method for assessing the environmental performance of all our suppliers, and insisting on seeking eco-certification over the 2023–2025 period. As of this year, 50% of expenditure must be on suppliers holding the Eco Vadis label.
Optimising our servers: The aim is to extend their lifespan and maximise their utilisation rate. A minimum viable product (MVP) is under development to give us the finest possible measurement indicators. Action plans will be drawn up in 2023, with implementation scheduled for 2024 and 2025.
Optimising our applications: This covers awareness of best practice in eco-design and eco-coding, as well as in the correct use of data. Starting in 2023, 24 critical applications will be tested to calculate their energy consumption and action plans will be drawn up to reduce it. Equally, all new solutions are now developed according to eco-design and eco-coding criteria.
Training our IT staff: CACEIS has undertaken to train and obtain eco-design certification for at least 25% of its IT staff by 2025.
Supplying our clients with an API (Application Programming Interface) to measure the carbon footprint of services provided by CACEIS: The first reports, produced for predetermined scopes, will be available at the end of 2023. Their extension to other operations is planned for 2025.
Aziza Ben Ghozzia adds: "The first Hackathon organised by CACEIS last March was a good example of our commitment to Green IT. The task was to resolve a real-life problem involving an issue related to our business, in less than 48 hours using eco-design and eco-coding". These two concepts involve writing more environmentally-friendly code that uses less server resources for a given task. The entire architecture must be considered: How do we minimise database requests? Which calculation method uses the least energy? CACEIS' first in-house Hackathon was a real success in terms of participant involvement as well as the solutions proposed.
"The Green IT strategy, which is an important pillar of CACEIS' CSR policy, is fully incorporated into the work of the CACEIS Sustainability Centre, the think tank set up in 2021 to encourage and support CSR development across the CACEIS group. Our clients will be kept regularly updated on the status of our action plan," says Frédéric Coudreau, Sustainability Centre sponsor.
Click on the image to discover
CACEIS' first hackathon