A few weeks after taking up my duties as Chief Executive Officer, I would like to express how happy and honoured I am to be back here at CACEIS. Indeed, I know this Group well, having held various positions here for more than ten years, and I am very attached to it. I am impressed by the changes it has undergone and its broadened international scope, and appreciate all the progress made since its creation in 2005.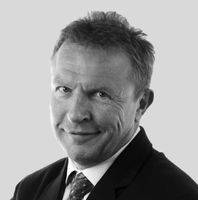 The daily energy and commitment of our staff, as well as the unfailing support of our two shareholders, Crédit Agricole and Santander Bank, have enabled CACEIS to become a powerful, solid, and ambitious Group that is attentive to client needs, in today's particularly demanding conditions. I want all of us to work together towards our development objectives and I will personally ensure that I maintain close relationships with our clients.
CACEIS is an internationally respected brand, its role is well-understood. The plan to take over the European asset servicing activities of RBC Investor Services bears witness to this. This transaction, which is currently in the process of being approved by the usual regulatory and antitrust authorities, will provide decisive impetus to the implementation of our external growth strategy, in perfect harmony with our 2025 Medium-Term Plan. We will significantly increase our presence in a number of key markets, particularly in Luxembourg, Ireland and the United Kingdom, with English-speaking investors, and enrich our service offering.
We are convinced that this operation is an excellent opportunity to satisfy CACEIS and RBC clients. Beyond the benefits mentioned above and the additional and combined expertise this transaction provides, they have the comfort with CACEIS, of relying on an asset servicing partner with a financially solid and stable shareholder structure for the long term, and a clearly stated strategy for sustained business activity. We are here for the long haul, to keep improving and providing the best possible servicing. Our sales teams are fully invested in meeting the needs of their clients.
Our business development trajectory focuses on the user experience through continuous improvement of service quality. As you will see in this edition, our service range continues to grow through strategic initiatives in several areas, such as ETFs, and the continued digitalisation of the client journey.
Finally, in addition to our ambition to become the leading player in the asset servicing market and for investors, we are committed to social and environmental responsibility. Therefore, our responsible digital strategy is fully aligned with the CSR commitments made in our 2025 Medium-Term Plan.
You can be sure of my determination to develop this successful new chapter for CACEIS and our clients. I also look forward to meeting you soon.