CACEIS' Private Equity, Real Estate & Securitisation business line is growing steadily, having achieved a position as a major player in the European private equity market. We met with Bruno Bourbonnaud, Global Head of the PERES business line at CACEIS.
HOW HAS PRIVATE EQUITY, REAL ESTATE & SECURITISATION CHANGED AT CACEIS OVER THE LAST FEW YEARS?
Over five years ago, CACEIS created the PERES (Private Equity, Real Estate & Securitisation) business line, with an integrated front-to-back organisation. Since 2018, we've been strengthening our position in this area, aiming to provide better support to our clients throughout Europe.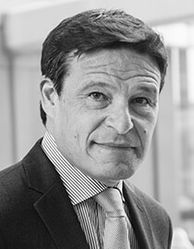 Our teams offer private equity, private debt, real estate and infrastructure professionals a complete range of services, including depositary bank and custody, fund administration, investor registrar and middle office services. We also help clients secure financing through committed overdraft facilities and equity bridge financing.
Business is very strong. Our client base now includes over 2,300 fund structures representing approximately €210 billion in assets, making CACEIS a major European player. We are a leading provider in France and we rank among the top private asset fund depositary banks in Germany, Luxembourg and Italy.
HOW DO YOU EXPLAIN CACEIS' STRONG GROWTH IN THIS SEGMENT?
The PERES business line is backed by over 280 experts in sales, client relations, financing, operations, IT, risk and compliance, organised in such a way that clients benefit from a single point of entry. Our local teams, who understand the specificities and regulatory requirements of each market, lend clients their expertise and give advice. Our operational teams work hand in hand with the IT and Project teams. This collaborative approach is what helps us enhance our solutions. We make major investments in IT, to build on our tools and services. This includes the quality of reports and efficient processing. Our fund administration platform recently underwent significant upgrades to ensure better accounting of unlisted assets. Finally, thanks to CACEIS' Olis web portal and its section dedicated to private equity funds, clients have easy access to their updated data, as well as a wide range of data to track the funds' progress.
Our development strategy is part of Crédit Agricole group's global offering, developed alongside our partners Crédit Agricole CIB, Indosuez Wealth Management, LCL and Crédit Agricole Île-de-France. Thanks to our range of complementary services and expertise, we provide a global offer to private equity, real estate, infrastructure and private debt managers, that responds to all their needs, including fund financing, treasury, corporate banking and wealth management solutions. This is a key point of our comprehensive offer.
WHAT IS YOUR DEVELOPMENT OUTLOOK?
We are looking to strengthen our position as a European asset servicer for this client base, and CACEIS has everything it needs to achieve this. Our recent acquisition of KAS BANK brings new opportunities for growth. In addition to eight countries (France, Germany, Italy, Luxembourg, Switzerland, Belgium, the UK and Ireland), we can now expand our services in The Netherlands. Our partnership with Santander, and the integration of its subsidiary Santander Securities Services (S3) within CACEIS, also open new doors for us in Spain and Latin America.
The Crédit Agricole group places clients' interests at the heart of its operations, and CACEIS is fully committed to this objective. We aim to continuously improve our services and operational efficiency. Over the past two years, clients have expressed their satisfaction in surveys, reflecting the success of this approach. Building strategic and trusted partnerships with our clients is a clear priority for us – we owe it to them to offer reliable, accessible and high quality services. As a result, we have established new partnerships with large private assets fund management firms, with funds of over several billion euros. We are indeed very confident for the future.