On November 20th, at 12:15, Joe Saliba, Deputy Chief Executive Officer, and Laurent Majchrzak, Deputy Global Head of 3D and Products, will address the fund industry challenges in the digital era.
You can now watch the replay: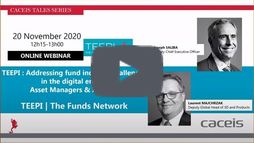 Technology and digitalization are rapidly transforming the way in which the fund industry is operating. Innovative applications and digital platforms for financial services are being used to answer the daily challenges and to alter the interface between asset managers and investors helping them to simplify the fund distribution and the regulatory reporting dissemination.
During this webinar we discussed:
What are the digital challenges of fund industry?
What are investors expectations?
What is TEEPI?
What is TEEPI Data Hub ?
What is TEEPI Market Place?