Each year, CACEIS invites employees to enjoy one of its Moov Days, a day-long forum all about internal mobility. It focuses on ways to break out of routine, take on a new role or even arrange a move abroad.
Audrey Petronille is in a series of personal stories. She is Real estate accountant in Geneva.
Audrey joined CACEIS in 2006 as a fund accountant in Paris. In 2014, she moved to the Swiss fund administration entity to carry out the same duties but within the specific area of real estate funds.
What triggered your move to Switzerland?
After eight years at my position, I wanted to discover a new environment, and change locations while remaining with the CACEIS Group. As I speak English fluently, the language of the destination country was not a barrier for me. The opportunity to move to Switzerland came at the right time and was compatible with my family life.
How did you settle in in Switzerland?
I settled in quickly in Switzerland. A certain curiosity and a desire to develop my skills helped me learn about my new environment. I showed myself to be flexible right from my arrival, not hesitating to temporarily help out a team experiencing a peak in activity. This contact with colleagues from various teams helped me feel settled.
I also benefited from the fact that the entity was growing: I arrived at roughly the same time as several accountants, and our colleagues already in place organised an accelerated group training session. They helped us master the complexity of real estate in Switzerland. This need to be operational rapidly helped the team bond within this human-sized company.
Did you adapt easily to a new culture?
I did not feel a very big cultural difference from France. However, the work environment is not the same (working time, leave days, etc.). The cost of living is higher in Switzerland, but the environment is very welcoming. We are near a lake in the mountains. It feels like we are in the countryside, which is very nice on a day-to-day basis.
I was lucky that my husband supported my move, even though he had some difficulty finding work in Switzerland. I am very grateful to him, and my advice to anyone who wants to move abroad is to confer with their family. It is a collective decision. Today, we are happy about this change in our lives.
The HR viewpoint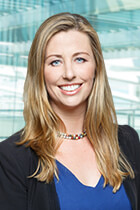 We are hoping to develop our specialists' skills by promoting contact amongst our various entities and promoting work in project mode.
Geographic mobility can also help our employees to discover the markets in which CACEIS operates, as well as offering a new living environment.
Doing the same job in a different country helps continue personal and professional development; it's a lifestyle choice.
Pauline Jamot, Head of Human Resources for CACEIS in Switzerland