The sudden switch-over to a virtual way of doing business over the last six months due to Covid-19 was a major shift to which all of us have had to adapt. Digitalisation has transformed the way we manage teams, communicate with clients, and participate in industry events, opening up new opportunities and increasing the resilience of the asset servicing industry, which is an essential pillar for the functioning of financial markets.
CACEIS, a major player in this industry, is maintaining its heavy investment programme into innovation and digital transformation. And now, more than ever, we are working further in that direction to support clients in their development projects.
We are also active in marketplace discussion that shapes the industry of tomorrow and are working to meet the new requirements related to the current crisis. Our experts are involved with European professional organisations that establish the implementation standards for regulations such as SRD II (Shareholders' Rights Directive) which came into force on 3rd September.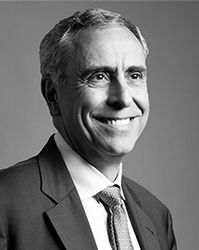 At the start of October, we are continuing to support the annual events that are a major part of our industry. As every year, we are partners, but this year in a virtual way, of SIBOS - which brings together providers of international banking and financial services, of FundForum, the global event for asset management where I will be moderating a panel on 'Becoming a trusted advisor to the consumer', and ExpoReal, a key event for the real estate sector. Finally, we will join Crédit Agricole, remotely, at the IMF's Annual General Assembly where central banks and major banks will discuss the future of the global economy in the light of the impacts of Covid-19.
In addition, our French sales teams are looking forward to meeting you face-to-face on 13th October in Paris for AM Tech Day, to discuss how technological innovation is changing the asset management sector.
During this unusual year, we are maintaining our commitment to relationship excellence, which can be seen in the many business wins we have made, including ArchiMed in France and KGAL in Germany. Our digital solutions are meeting clients' needs both in terms of service quality and communication. Since September, TEEPI Market Place has provided investors with a fully-digital account opening facility which enables them to subscribe to the funds of partner management companies. Furthermore, using our Data Analytics service, we now provide our clients with MIS (Management Information System) type indicators, initially on our securities custody activity but soon on other areas as well.
Even if travel is still limited, our staff maintain close contact with our clients by relying on technology solutions like webinars and video meetings.
With our comprehensive range of services, our extensive geographical presence, our capacity for innovation and the resilience of our teams during Covid-19, CACEIS has shown its ability to adapt to the new economic environment and remain a major player in asset servicing upon which our clients and the market can rely.