The Target2 Securities aims to create a unified securities settlement tool for post-trade market participants in the Eurozone. CACEIS has just completed the Wave 4 migration.
Since February 06th, 2017, the matching and settlement functions of the 6 national Central Securities Depositories listed below is ensured by the pan-european settlement platform: TARGET2 SECURITIES (T2S).
German market: Clearstream Banking AG, Frankfurt (CBF)
Slovak market: Centrálny depozitár cenných papierov (CDCP)
Slovenian market: Centralna Klirinsko Depotna Druzba (KDD)
Hungarian market: KELER
Luxembourg market: LuxCSD
Austrian market: Oesterreichische Kontrollbank (OeKB)
This important milestones of the T2S project marks the end of the wave 4 migration process.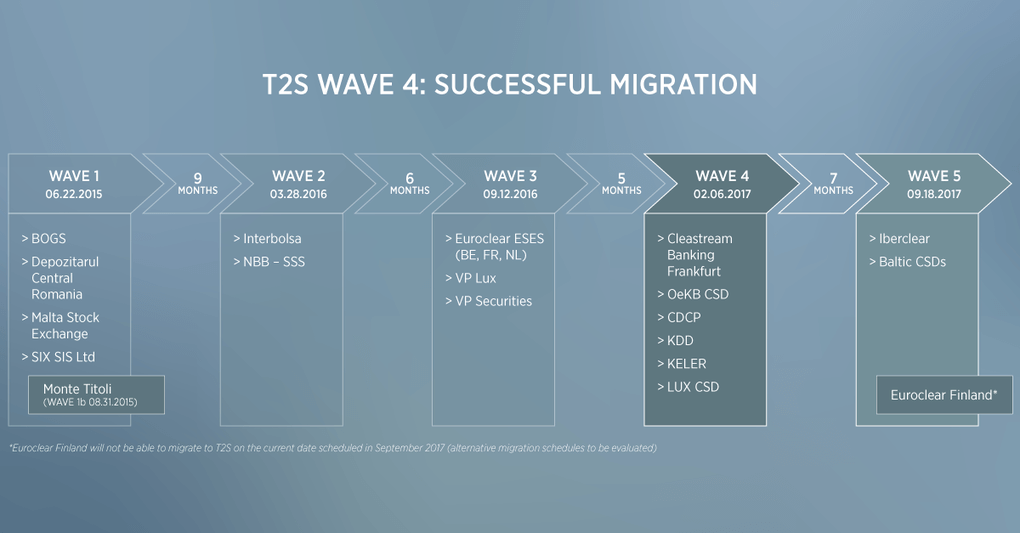 Launched in 2006 by the European Central Bank, the TARGET2 SECURITIES project (T2S) is intended to provide the Eurozone with a standardised tool for settlement of securities in real time between post-trade market participants with payments in central bank money. For securities, T2S thus supplements the European Central Bank's Target2 system that is currently in place for payments in central bank money.
As a major player of European post-trade Market, CACEIS Bank is deeply involved in the project for several years. Directly connected to the T2S platform, CACEIS Bank teams have managed the evolution of their functional processes and tools to comply with the new settlement practices.
Thanks to CACEIS Bank peoples from France, Germany, and Luxembourg who have contributed to the success of this migration. In the next coming weeks, CACEIS will closely monitor the activities of these markets and will report any disruption which may impact the business of its clients.