CACEIS News
All issues from category CACEIS News
RegWatch
Septembre 2021
CACEIS Regulatory Watch Newsletter
BENCHMARKS REGULATION (BMR)
CENTRAL SECURITES DEPOSITARY REGULATION (CSDR)
COVID-19 REGULATORY MEASURES
EUROPEAN MARKET INFRASTRUCTURE REGULATION (EMIR)
FINANCIAL SUPERVISION
INVESTMENT FUNDS / COLLECTIVE INVESTMENT SCHEMES (CIS) / ASSET MANAGEMENT
MARKETS IN FINANCIAL INSTRUMENTS DIRECTIVE AND REGULATION (MIFID II / MIFIR)
PACKAGED RETAIL AND INSURANCE-BASED INVESTMENT PRODUCTS (PRIIPS)
PRUDENTIAL REQUIREMENTS FOR INVESTMENT FIRMS DIRECTIVE & REGULATION (IFD / IFR)
REGULATION ON CREDIT RATING AGENCIES
REGULATION ON SCREENING OF FOREIGN DIRECT INVESTMENTS (FDI SCREENING REGULATION)
REGULATION ON SHORT SELLING AND CERTAIN ASPECTS OF CREDIT DEFAULT SWAPS
SECURITIES FINANCING TRANSACTIONS REGULATION (SFTR)
SUSTAINABLE FINANCE / GREEN FINANCE
ANTI-MONEY LAUNDERING / COMBATING THE FINANCING OF TERRORISM (AML / CFT)
CENTRAL SECURITES DEPOSITARY REGULATION (CSDR)
COMPANY LAW
FINANCIAL MARKET INFRASTRUCTURE (FMI)
FINANCIAL SUPERVISION
INVESTMENT FUNDS / COLLECTIVE INVESTMENT SCHEMES (CIS) / ASSET MANAGEMENT
PRUDENTIAL REQUIREMENTS FOR INVESTMENT FIRMS DIRECTIVE & REGULATION (IFD / IFR)
SUSTAINABLE FINANCE / GREEN FINANCE
FINANCIAL SUPERVISION
MARKETS IN FINANCIAL INSTRUMENTS DIRECTIVE AND REGULATION (MIFID II / MIFIR)
ANTI-MONEY LAUNDERING / COMBATING THE FINANCING OF TERRORISM (AML / CFT)
CRYPTOASSET / CRYPTOCURRENCY / VIRTUAL CURRENCY
INVESTMENT FUNDS / COLLECTIVE INVESTMENT SCHEMES (CIS) / ASSET MANAGEMENT
MARKETS IN FINANCIAL INSTRUMENTS DIRECTIVE AND REGULATION (MIFID II / MIFIR)
ANTI-MONEY LAUNDERING / COMBATING THE FINANCING OF TERRORISM (AML / CFT)
FINANCIAL MARKET INFRASTRUCTURE (FMI)
INVESTMENT FUNDS / COLLECTIVE INVESTMENT SCHEMES (CIS) / ASSET MANAGEMENT
COMPANY LAW
FINANCIAL SUPERVISION
INVESTMENT FUNDS / COLLECTIVE INVESTMENT SCHEMES (CIS) / ASSET MANAGEMENT
FINANCIAL REPORTING
MARKETS IN FINANCIAL INSTRUMENTS DIRECTIVE AND REGULATION (MIFID II / MIFIR)
ANTI-MONEY LAUNDERING / COMBATING THE FINANCING OF TERRORISM (AML / CFT)
COMPANY LAW
EU PASSPORT NOTIFICATION
INVESTMENT FUNDS / COLLECTIVE INVESTMENT SCHEMES (CIS) / ASSET MANAGEMENT
PRUDENTIAL REQUIREMENTS FOR INVESTMENT FIRMS DIRECTIVE & REGULATION (IFD / IFR)
SWITZERLAND
ANTI-MONEY LAUNDERING / COMBATING THE FINANCING OF TERRORISM (AML / CFT)
BENCHMARKS REGULATION (BMR)
INVESTMENT FUNDS / COLLECTIVE INVESTMENT SCHEMES (CIS) / ASSET MANAGEMENT
INVESTMENT FUNDS / COLLECTIVE INVESTMENT SCHEMES (CIS) / ASSET MANAGEMENT
PENSION SCHEMES
ANTI-MONEY LAUNDERING / COMBATING THE FINANCING OF TERRORISM (AML / CFT)
BENCHMARKS REGULATION (BMR)
FINANCIAL MARKET INFRASTRUCTURE (FMI)
FINANCIAL SUPERVISION
INVESTMENT FUNDS / COLLECTIVE INVESTMENT SCHEMES (CIS) / ASSET MANAGEMENT
PENSION SCHEMES
PRUDENTIAL REQUIREMENTS FOR INVESTMENT FIRMS DIRECTIVE & REGULATION (IFD / IFR)
DODD-FRANK
SUSTAINABLE FINANCE / GREEN FINANCE
BRAZIL
CONSUMER PROTECTION
FINANCIAL SUPERVISION
FINTECH / REGTECH / BIGTECH / SUPTECH / DIGITLA ECONOMY
All issues from category REGWATCH
Corporate
Corporate Brochure 2021
Wereldwijde Asset-Servicepartner
CACEIS is een internationale bankgroep die alle post-trade activiteiten voor alle asset classes aanbiedt. Dankzij onze solide IT-infrastructuur kunnen institutionele beleggers, vermogensbeheerders, pensioenfondsen, private equity-fondsen, banken, effectenmakelaars en bedrijven bij ons terecht voor uitvoerings-, clearing-, custody-, bewaarbank-, fondsadministratie en emissiediensten.
All issues from category CORPORATE
Reference Papers
All issues from category Reference Papers
CACEIS Emetteurs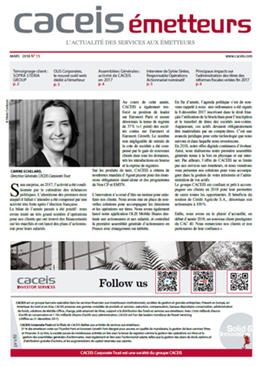 CACEIS Emetteurs N°15 — Mars 2018
L'actualité des services aux émetteurs
Témoignage client : Sopra Steria Group
OLIS Corporates, le nouvel outil web dédié à l'émetteur
Assemblées Générales : activité de CACEIS en 2017
Interview de Sylvie Sintes, Responsable Opérations Actionnariat Nominatif
Augmentations de capital réservées : enrichissement de l'offre CACEIS
Principaux impacts sur l'administration des titres des réformes fiscales votées fin 2017
All issues from category CACEIS émetteurs
Decryptage
N°114 - Juin 2019
L'actualité juridique et réglementaire
ACTUALITÉS LÉGISLATIVES ET RÉGLEMENTAIRES
TEXTES LÉGISLATIFS ET RÉGLEMENTAIRES NATIONAUX
TEXTES LÉGISLATIFS ET RÉGLEMENTAIRES EUROPÉENS

COMMUNICATION AMF
INSTRUCTION
DÉCISION
POSITION
ÉTUDE
GUIDE

AUTRES COMMUNICATIONS FRANÇAISES
ACPR (AUTORITÉ DE CONTRÔLE PRUDENTIEL)
AFTI
CNIL
TRACFIN

ACTUALITÉS EUROPÉENNES
CONSEIL DE L'UE
COMMISSION EUROPÉENNE
EBA (EUROPEAN BANKING AUTHORITY)
ESMA (EUROPEAN SECURITIES AND MARKETS AUTHORITY)
All issues from category Decryptage
EDHEC-Risk Institute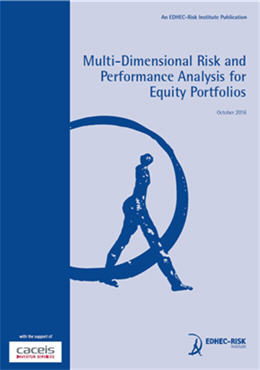 Multi-Dimensional Risk and Performance Analysis for Equity Portfolios
An EDHEC-Risk Institute Publication
In this study, EDHEC-Risk Institute explores a novel approach to address the challenge raised by the standard investment practice of treating attributes as factors, with respect to how to perform a consistent risk and performance analysis for equity portfolios across multiple dimensions that incorporate micro attributes.
All issues from category EDHEC-Risk