Each year, CACEIS invites employees to enjoy one of its Moov Days, a day-long forum all about internal mobility. It focuses on ways to break out of routine, take on a new role or even arrange a move abroad.
Sébastien Massaux is in a series of personal stories. He is a fund admnistration expert.
Sébastien has worked in the CACEIS fund administration entity in Luxembourg since 2003. After joining as an accountant, he became a manager, and worked to calculate the net asset value for funds held by American customers for 6 years. He then established a new team in charge of Swiss and French customers. Nine months ago, he joined Business Support as a fund administration expert.
You left your management position for a coordinating position; why?
The Business Support employees are considered to be the "experts" in accounting. We work to improve systems processes and assist users. We are in charge of changing managers for customer portfolios and ensuring their proper integration. We manage major projects such as establishing accounting systems and adapting them to new entities and to various local standards. We also analyse customer requests, study their technical feasibility and assess the developments required to provide an appropriate response. Thus, this position requires many of the skills that I have acquired over the years. I liked the idea of using my experience to transmit know-how.
Of course, it is not easy to leave a management position, as the links created with the team are strong. I thought about this option for about 6 months before undertaking the mobility process. The dialogue with my N+1 and N+2 was beneficial. I knew the team that I would be joining well, and I was assured that I would keep in touch with my colleagues; that was also part of the decision.
Nine months later, are you satisfied with your choice?
Yes. I am using my fund administration knowledge to help accountants, sales representatives and customers. I work in project mode, which is a new pace that gives me more scheduling flexibility, and at this stage a better balance between professional and private life. It is a new start... but it continues my career path.
THe hr viewpoint
"There are a wide range of skill-related internal mobility possibilities within our Group. Career evolution may be from a non-manager position to a manager position or from manager to expert, within the same business line or from one sector to another. This creates interesting career paths and helps enhance our profiles."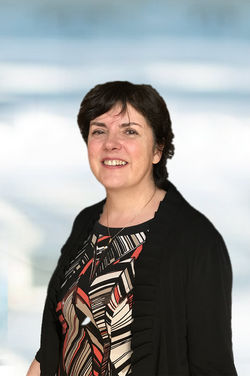 Yveline Herfeld, Head of Payroll and Talents Management in Luxembourg.