2019 will undoubtedly remain a key year in the history of CACEIS. Indeed, our Group has taken on a whole new dimension, with the completion of two major international growth operations.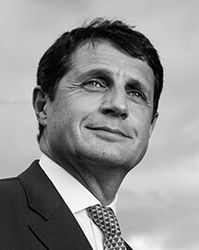 At the end of October, following a recommended takeover bid, we finalised the acquisition of KAS BANK, a long term player in asset servicing in The Netherlands, also present in Germany and the United Kingdom. 450 employees joined CACEIS. In particular, they bring us their expertise in pension fund services.
On 20th December, Crédit Agricole S.A. and Santander formalised the combination between Santander Securities Services (S3) and CACEIS. 100% of S3's activities in Spain and 49.99% of its activities in Latin America (Brazil, Mexico and Colombia) have been contributed to CACEIS. Following the transaction, Crédit Agricole S.A. and Santander hold 69.5% and 30.5% of CACEIS' capital respectively.
This alliance represents an exceptional opportunity for our market. We share with S3 the same vision of our industry and we are perfectly complementary in terms of geographical presence.

It creates a major player in Europe and worldwide, with nearly €4 trillion in assets under custody and over €2 trillion in assets under administration. Our European network is expanding with Spain and we now have a robust service offering in Latin America.

I am therefore very pleased to comment in these pages on the future out-looks for CACEIS, together with Carlos Rodríguez de Robles, who heads up our activities in Spain and Latin America.
Beyond these developments, CACEIS has had a very satisfactory year in terms of sizable business wins. Indeed, all of our entities contributed to strengthening our presence with management companies, institutional investors, private banks and large corporations. The consistency of our range of solutions and the recognised professionalism of our teams have convinced new clients.
CACEIS' Private Equity, Real Estate and Securitisation business line has con-solidated its position as a leading player in the European private equity market. Our Market Solutions have also enjoyed notable successes.
"Solid and Innovative" is more than ever our guiding principle and we are counting on innovation to support our growth. This translates into the implementation of new practices and technologies, such as Big Data, Blockchain, Artificial Intelligence and RPA. For example, in 2019, our TEEPI platform has been enhanced with Market Place, a digital solution for subscribing to and aggregating fund units.
With now complete coverage of European markets and a geographical presence extended to 15 countries, CACEIS is more than ever ready to move into 2020 and fulfill its role as a trusted third party for its clients. CACEIS also benefits from the support of its two shareholders who are among the largest European banking groups.
I would like to thank all our clients for the trust they have placed and continue to place in CACEIS.
I wish you all a happy and prosperous 2020.