Pat Sharman is in charge of CACEIS' UK pension fund business and is shortlisted for 'Pensions Women of the Year' at the Women in Pensions Awards 2020 to be held later this year. After joining KAS BANK (now part of the CACEIS Group) in 2015, Pat set out to build a strong team of pension specialists, dedicated to delivering innovative governance solutions to the UK pensions industry.

Can you tell us about your UK pensions business?
Becoming the governance partner of choice for UK pension schemes lies at the core of everything we do. We achieve this through a specialised team that fully understands the pensions landscape, so we can partner with pensions schemes of all shapes and sizes to meet their current and evolving needs.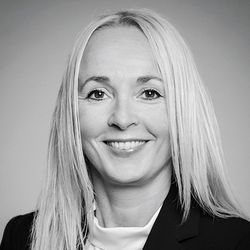 Our business touches many different clients and prospects. For example, we currently partner with some of the largest defined benefit pension schemes in the UK, including Local Government Pension Schemes, and we also work with defined contribution schemes, as well as Master Trusts, such as NEST. Another important area for us is supporting the trustees and individuals who are responsible for decision making across these pension schemes, educating them on complex issues such as cost transparency. Given this broad remit, we have a diverse team with complementary skill sets that has a focus on understanding client needs and delivering industry-leading support.
The challenges we have seen in the first half of 2020, with COVID-19, have not stopped us in meeting our clients' needs. For example, during this period, we onboarded Brunel Partnership, a local government pension scheme that leverages our cost transparency and benchmarking solution. It was a complex operation involving the collection and analysis of data from many asset managers across different asset classes, and then bringing all this information together to help the client interpret their total cost of ownership.
You have stated that you want to be the governance partner of choice for UK pension schemes. What does this mean in practice?
We believe good governance is all about providing timely, accurate data that's flexible enough to adapt to a pension scheme's changing needs and provides trustees with the tools to help them in their decision making. This involves bringing new, often difficult to create, solutions to the market such as cost transparency and Environmental, Social & Governance (ESG) governance reporting.
Giving pension schemes access to accurate data is critical. For example, with our cost transparency solution, we are highly flexible in the way we collect cost data so we can be successful in obtaining all the information we need. However, we also have a team of highly specialised cost transparency analysts that carefully review the data we receive. Applying rigour in how we cleanse the data we collect from a pension scheme's asset managers is central to good data governance. We then work with trustee boards of pension schemes to help them interpret the data, turning it into something meaningful that's easy to view and digest.
Reflecting our client-first ethos, we've also thought carefully about the individual needs of different pension schemes. Staying on the topic of cost transparency, we've developed an end-to-end solution for defined contribution schemes, which begins at the data collection phase and ends with the production of their chair statement. In another example, for Local Government Pension Schemes we have additional steps in the process for delivering cost data reflecting their unique requirements. Getting to this point has required a singular focus on governance and looking at what needs to be delivered through the lens of a pension trustee
Does being part of CACEIS, a custodian and securities provider, help in pursuing a focus on strong governance?
Absolutely. CACEIS is a world-class service provider and has a huge amount of experience in gathering, assessing and reporting on data. What is more, our pensions fund services benefit from the combined knowledge and services of a global company that integrates the latest regulations and best governance practices from across its international network. This is key to supporting our clients and ensuring investor value and safety.
Good data is critical in providing insights to help trustee boards in their decision making and in the interactions they have with asset managers and service providers. This becomes even more apparent when trying to navigate market stress and volatility.

An important area around this is Independent Governance reporting. For pension schemes, this is one of the most valuable services that they can leverage from CACEIS. This includes performance and risk measurement, ESG 'look through' reporting, as well as cost transparency. We firmly believe this independent oversight creates a more robust framework and can be invaluable in helping trustees with their decision making.
However, there is more work to be done and we want to continue adopting international best practices to raise our standards in the UK. For example, the Dutch market, where we have our biggest pensions operations, permits daily oversight of a pension scheme's assets rather than monthly updates, which is the standard in the UK, as well as 'look through' into pooled fund assets. Having daily oversight and 'look through' provides a higher standard of governance reporting, so pension schemes know what's happening with their underlying assets. We would like UK clients to be able to benefit from such standards too.
You recently signed up with the PLSA Educational Partnership for a second year. What work are you doing for them, particularly in terms of education?
This is our second year as a PLSA Educational partner. It's an initiative that's central to our core beliefs at CACEIS. Our role as a service provider and specialist is to educate and share insight. In particular, we are very focused on governance.
In 2019, the UK Pensions Regulator made three key recommendations. First, that 'trustees should be able to demonstrate a minimum level of annual ongoing learning through formal Continuing Professional Development-type training'. Secondly, that schemes should put in place 'robust governance structures that enable effective decision making'. And finally, as well as achieving value for members, trustees needed to be able to evaluate and manage potential risks to the pension fund.
The PSLA is fully supportive of these recommendations and this year, working in partnership with them, we have a programme that looks at data and custody governance issues. We focus in particular on the importance of good quality data, including the previously mentioned cost transparency and ESG factors.
We have also been able to transfer much of the experience we gained in the Dutch market and implement it in the UK market. Working alongside UK pension schemes at the PLSA Educational Partnership events, we have been able to explain what worked – and what didn't – in the Netherlands, and then suggest ways of incorporating these best practices into their own training programmes.