Founded in 2016, CACEIS Fonds Services is the German entity that provides clients with the international expertise of the CACEIS Group in fund administration. Its service offer meets the need of a growing demand for outsourcing.

Many investment companies choose to outsource their in-house fund administration and related middle-office activities, and administrators like CACEIS have helped industrialise and automate the activity, driving down costs and increasing companies' flexibility.
FUND ADMINISTRATION FOR ANY TYPE OF ASSET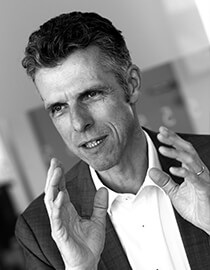 Demand for administration services, especially for real asset funds, is rising sharply and many managers are opening up to the benefits of implementing an outsourcing model.

"We are seeing a confirmed trend on the German market, with more managers rethinking their current in-house administration strategy in favour of outsourcing," says Andreas Pade, Managing Director of CACEIS Fonds Services in Germany.

CACEIS is a leading global provider of administration services and has particular expertise in Germany with real asset funds. It fulfils the administration needs of a broad range of clients in Germany and other European countries from large capital management firms to more boutique-style operations. Outsourcing fund administration tasks eases the burden of ensuring ongoing compliance with changing regulatory requirements. It also frees up company resources from heavy investment into IT systems and process automation, while offering far greater flexibility for coping with activity volume spikes when they occur.

Across the world, companies are making the decision to isolate their business investment from the shifting regulatory landscape and constant IT development required with in-house administration. With the right partner that understands their business and can pool resources of a large number of clients to develop world-class systems and services, managers can remain in full control of their business. Outsourcing helps managers better direct company resources and lets them concentrate on their key area of expertise - creating investor value.

In many cases, an outsourcing operation involves a staff lift out, which ensures not only that companies can justify the strategy to their staff, but also that competent staff with an intimate knowledge of their company are within the service. Any outsourcing operation takes time to understand fully and plan before implementation, and CACEIS has the in-depth expertise and experience to ensure it is a success for companies' business, and their staff, from the outset.
SECURITIES FUNDS
Third party administration of securities funds is a more mature market than for real asset funds, and managers have long been outsourcing the process. Despite this, the market for third party administration services still holds great potential in terms of companies looking to consolidate both fund administration and depositary services with one provider. Many are also reconsidering their current provider as they seek support from a provider with a large geographic footprint to assist them in achieving their business development objectives outside the home market.
OPEN-ENDED REAL ESTATE FUNDS
Whether specialist in one asset type or offering a range of products from across the asset spectrum, a large comprehensive asset servicing player like CACEIS can cover every base, offering a one-stop shop for any product and market-leading services from fund administration to depositary, throughout Germany, Europe and the world. One single partner covering all servicing means one central contact for all servicing needs, consolidated reporting from across your network, efficiency gains, and enhanced service levels for your investors, wherever they are. CACEIS' offer is highly modular, and companies have the option of mandating only for the more complex or resource intensive areas, or remaining with a current provider and requesting CACEIS to consolidate reporting data from both groups.
REAL ASSET FUNDS (CLOSED-END FUNDS)
In the past, the real asset segment has benefited least from task automation, with paper-based methods and manual processes.

We want to change this and, as an exemple, we will, in 2019, transform into a fully digitised invoice workflow system. Bookings and payments will be generated automatically.

There will be also a human four-eyes principal check prior to final release.

Andreas Pade states: "Clients see many benefits such as this fully digitised invoice service when they select CACEIS as their real asset administrator. We are one of the few providers in Germany offering fund administration and depository services for all asset types and many managers are either currently using our services or in discussions for an outsourcing deal. CACEIS is fully committed to the German market and to providing cutting-edge servicing."